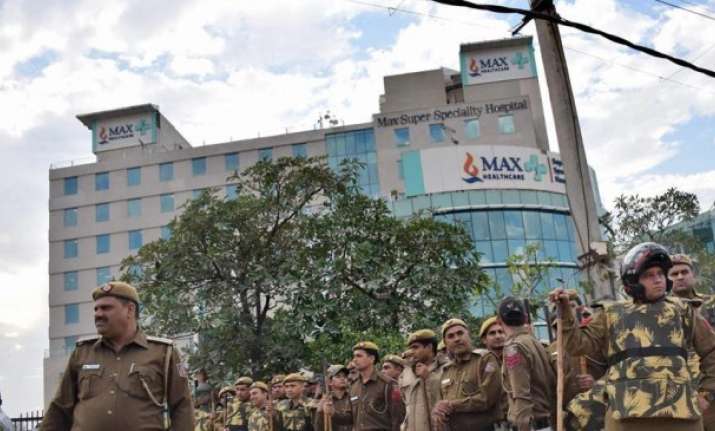 The Bharatiya Janata Party on Wednesday slammed the Arvind Kejriwal-led Delhi government soon after Max Hospital, Shalimar Bagh, resumed its operations, days after its licence was cancelled by the city government for declaring a live newborn baby dead.
 "Chief Minister Kejriwal needs to tell Delhi what deal did he strike with the Max Hospital administration for preparing a legally weak case that could not stand for a single date?" Delhi BJP President Manoj Tiwari told reporters.
Tiwari's remarks came soon after Max Hospital, earlier on Wednesday, said operations were resumed after the Court of Finance Commissioner on Tuesday put on hold the government's December 8 order.
The hospital had appealed to the appellate authority to revoke the cancellation of the licence.
"He is master at scripting such gimmicks with which he can emotionally attach to people for political gains. The legally unsubstantiated ban was just aimed to mislead people," the BJP MP from northeast Delhi said.
On his part, the Aam Aadmi Party government in the city sought to lay the blame of the stay order on the cancellation of the hospital's license Lieutenant Governor Anil Baijal.
AAP leader Dilip Pandey said the court has given the Lieutenant Governor all administrative powers of Delhi and he should be accountable.
The leader also said that the party doubted whether the appellate authority who stayed their government's decision "worked for the people or for crony capitalists".
Meanwhile an official statement from Baijal's office distanced itself from the decision.
"The matter with respect to Max Hospital licence is not before the LG. It is before the Court of Financial Commissioner. It is also clarified that no Max officials have met the LG or any officer of Raj Niwas," it said.
On December 8, the Aam Aadmi Party (AAP) government cancelled the 250-bed hospital's licence after its doctors on November 30 declared a premature newborn baby dead. He was found to be alive when his parents took his body for the final rites.
The baby died a week later due to "infection and other medical problems".