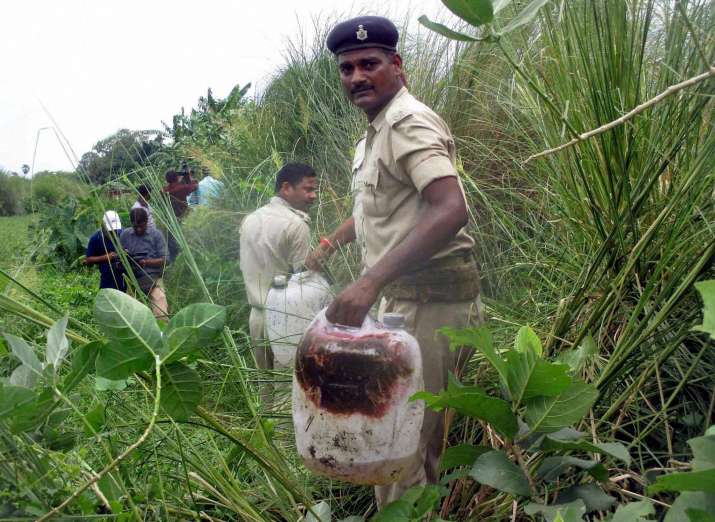 The Bihar government has made a U-turn with Gopalganj DM Rahul Kumar accepting it was illicit liquor that killed 16 people here on Tuesday night.
"We are going by the statements of the family members of deceased. Most of them blamed it on illicit liquor purchased from Khajurwani village," Kumar said on Thursday, adding that six persons have been arrested in connection with the case,
An FIR has been lodged against the six and some others with the town police station, he informed.
He, however, said that the local administration was waiting for forensic science report to substantiate the victims' family members claim.
Till Wednesday evening, Kumar maintained that the deaths happened because of food poisoning as the victims had complained of abdominal pain.
Kumar's assertion came soon after CM Nitish Kumar hinted that spurious alcohol could be one of the reasons for the deaths.
Kumar had yesterday expressed grave concern over the Gopalganj tragedy, the first major incident after Bihar was declared a complete dry state on April 5.
He told reporters that the incident was serious and expressed confidence that truth would come out in the forensic test of viscera and blood samples of deceased.
He said if the deaths are due to hooch, compensation of Rs 4 lakh each would be given to the family members of the victims.
Meanwhile, 25 policemen including station house officer (SHO) of Town police station have been suspended with immediate effect for dereliction of their duties in strictly enforcing liquor ban.
"25 policemen including SHO of Town police station BP Alok have been suspended with immediate effect after they were found guilty of dereliction of their duties in strictly enforcing liquor ban," Gopalganj SP, Ravi Ranjan said.
Police have also recovered 1000 litres of illegal country made liquor from Khajur Vani a day after the tragedy happened.
The police recovered illegal liquor which was hidden by digging the ground.
The Gopalganj incident has provided opportunity to opposition BJP and its NDA partners to attack the Nitish government.