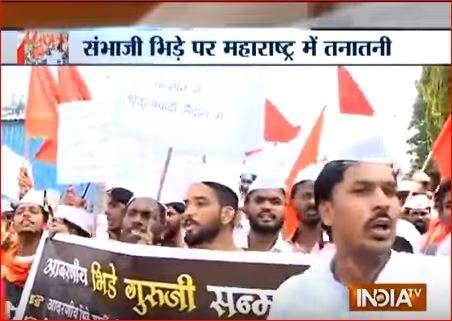 The supporters of Sambhaji Bhide, booked for Bhima Koregaon violence, today staged protest in Mumbai and other parts of Maharashtra against the demand for his arrest in this case.
On January 2, a day after Bhima Koregaon violence took place which led to the killing of one person, Sambhaji Bhide and Milind Ekbote were booked under SC/ST Prevention of Atrocities Act and under various sections of the IPC including attempt to murder in this case.
85-year-old Bhide heads the "Shiv Pratishthan Hindustan" organisation which is staging the protest in different parts of the state. 
In Mumbai, Bhide's supporters carried out protest rally from Bhaikhala to Azad Maidan. His supporters took out similar rallies in Pune, Sangali, Satara, Kolhapur, Nashik and Jalgaon districts.
Bhide's supporters are demanding the withdrawal of cases against the Shiv Pratishthan Hindustan chief. They are also demanding action against Jignesh Mevani and Umar Khalid for making provocative speeches in Pune.
While Ekbote was arrested by the police after his anticipatory bail plea was rejected by the Supreme Court, the Maharashtra government has refused to arrest Bhide saying it does not have enough evidence of the involvement of the Shiv Pratishthan Hindustan chief in Bhima Koregaon violence.
On Monday, Prakash Ambedkar of Bharip Bahujan Mahasangh, which has launched an agitation seeking the arrest of Bhide, met chief minister Fadnavis and gave the government an ultimatum of eight days to arrest Bhide.
However, chief minister Devendra Fadnavis told  Legislative Assembly on Tuesday that neither Bhide, nor his aides visited the Bhima Koregaon area in the last six months.
  
Bhide was also not in conversation with anyone on the phone at the time (of violence), he added.
 
"A woman claimed that she saw Sambhaji Bhide and Milind Ekbote (Hindu Ekta Parishad leader who has been arrested) instigating riots at Bhima-Koregaon. However, investigation did not show any evidence against Bhide," Fadnavis said. 
The woman later gave a statement saying she had never seen Bhide or Ekbote but had heard their names being mentioned by people, the chief minister said. 
"In the last six months, neither Bhide nor his close aides went to that area. They did not talk to anyone there. An inquiry is underway anyway," Fadnavis informed the House. 
He said the police took all steps to curb violence during the January 1 commemoration of the 200th anniversary celebrations of the Anglo-Maratha War where the army of Peshwa Bajirao II was vanquished by a small force of the East India Company comprising a large number of Dalits. 
Watch Video: Protests in Mumbai's Azad Maidan in support of right-wing leader Sambhaji Bhide
​