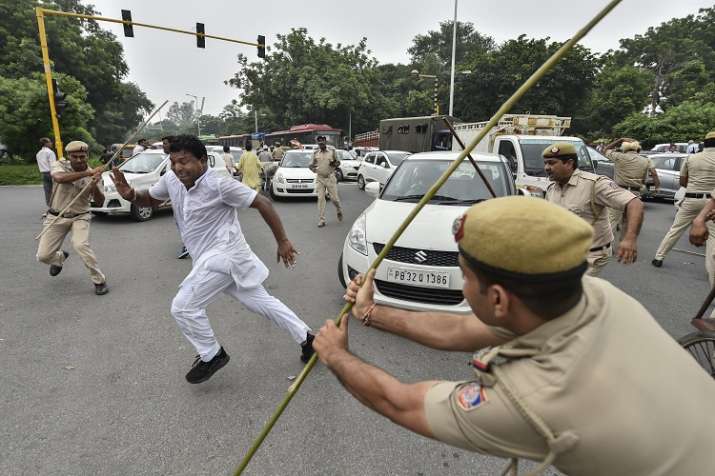 The BJP on Monday slammed the Congress-led Opposition over its Bharat Bandh protests. Uttar Pradesh Chief Minister Yogi Adityanath lashed out the protests ans said that it does not have a strategy.
"Frustrated Opposition which doesn't have strategy and leadership,what else can be expected from them. I hope God gives them sense so they can differentiate between positive and negative otherwise in future they will lose their position as Opposition as well," he said.
Addressing media, Union Minister and senior BJP leader Ravi Shankar Prasad held the Opposition responsible of risking lives of the people in the name of Bharat Bandh. 
"Everyone has a right to protest but what is happening today? Petrol pumps and buses being set ablaze, putting to risk lives. A child died after an ambulance was stuck in the protests in Bihar's Jehanabad. Who is responsible?" said Prasad.
On the other hand, Union Minister Mukhtar Abbas Naqvi dubbed the Bharat Bandh as an attempt to spread rumour and confusion among the masses and said people will "puncture the grand alliance balloon" floated by the main opposition party.
Accusing the opposition party of tying to create a "negative atmosphere" in the country since Prime Minister Narendra Modi came to power in May 2014, he wondered if some "invisible hand" gave "supari" (contract) to destroy the progress India has made. 
"The Congress is a cruise of corruption and whichever party joins it will sink with it," he said, adding this is the reason several opposition parties have kept away from the 'Bharat Bandh' call given by the opposition party.
When Prime Minister Narendra Modi took over in May 2014 inflation hovered around 11 per cent and he has now brought it down to around four per cent with his policies and honest work, Naqvi said, expressing the hope that it will come down further.