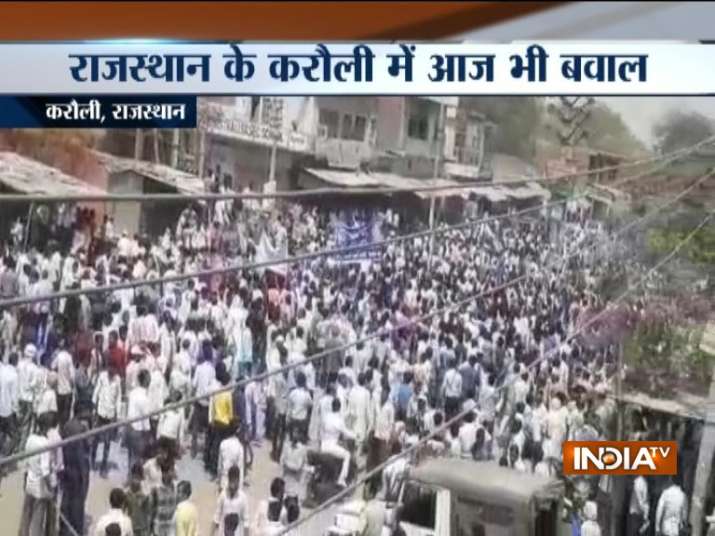 A day after ten people were killed and many injured in nationwide Dalit protests against the "dilution" of the provisions of the Scheduled Caste and Scheduled Tribe (Prevention of Atrocities) Act, section 144 has been imposed in Uttar Pradesh's Meerut. 
Meanwhile, violent protests continued in Rajasthan for the second day with around 40,000 people taking to streets. Curfew was imposed in Hindaun after agitators torched houses of two Dalit leaders.  
In Uttar Pradesh, two persons were killed and over 70, including many policemen, were injured on Monday as the state saw widespread violence. "During the bandh, violence broke out in Muzaffarnagar, Hapur, Meerut, Agra and they were the most affected areas. Reports of violence have come from some other districts too. As of now, 448 persons have been detained in different districts. There were no incidents in 90 per cent of districts. We have sounded a high-alert in the state," DIG, Law and Order Praveen Kumar said.
The Bharat Bandh, called by various Dalit groups and backed by various political outfits, demanded restoration of the SC/ST (Prevention of Atrocities) Act in its original form.
AS IT HAPPENED:
# Madhya Pradesh: Case registered against two policemen in connection with the death of a man Mahavir Rajawat during yesterday's protests in Bhind 
# Law Ministry is in consultation with PMO on developments in SC today on SC/ST act: India TV sources
# We will continue our efforts to make our Dalit sisters and brothers the makers of New India. We will fulfill their aspirations and dreams. Jai Bhim! Jai Hind!, tweets Amit Shah
# Over 40,000 protestors have taken to streets in Rajasthan against the SC/ST Act ruling.
# Curfew imposed in Rajasthan's Hindaun following violent protests. Houses of two Dalit leaders vandalised. 
#The Central government has not made any changes in the SC/ST Act, it has strengthened the Act: Home Minister Rajnath Singh in Lok Sabha 
#Slogans of 'we want justice' raised in Lok Sabha as Home Minister Rajnath Singh makes statement on incidents of violence during protests on SC/ST Act issue 
#Home Minister Rajnath Singh speaks in Lok Sabha on violence during protests over SC/ST Protection Act
#Home Minister Rajnath Singh to give statement in Lok Sabha, over yesterday's protest violence on SC/ST Protection Act 
#Chief Justice of India agrees to set up original bench which passed SC/ST verdict to hear Centre's review petition 
#Death toll following protests over SC/ST Protection Act in Uttar Pradesh rises to 3.
#Government is committed towards rights of Dalits and their safety. Wherever Congress is in power, there they are responsible for inciting people and spreading violence: Union Minister Ananth Kumar
#Uttar Pradesh Deputy CM Keshav Prasad Maurya attacks BSP chief Mayawati over violence in state, says most of the protesters are BSP workers
#In Uttar Pradesh and Madhya Pradesh, schools except those conducting board examinations will remain shut today.
#Office of a BJP legislator was allegedly ransacked in Krishna Nagar on Monday by a group of Dalits who were protesting the "dilution" of the provisions of the Scheduled Caste and Scheduled Tribe (Prevention of Atrocities) Act, representative of the MLA said. 
#The Union Home Ministry, which rushed 800 anti-riot policemen to Madhya Pradesh and Uttar Pradesh, asked all states to take preventive steps and maintain public order to ensure safety of lives and property. 
#Transport, mobile and internet services were hit in many states with over 100 trains getting affected due to protests, even as the Centre moved the Supreme Court seeking review of its recent judgement on the SC/ST Act, maintaining that the verdict will violate constitutional rights of these communities.
#Bahujan Samaj Party (BSP) chief Mayawati targeted the Centre saying if it had taken prompt steps, there would not have been the need for a Bharat Bandh and "some anti-social elements would not have got the chance to indulge in violence and arson because of government laxity".
#Samajwadi Party chief Akhilesh Yadav also targeted the Modi government claiming it should have talked to the Dalit leadership in time. Now it seems that Dalits have lost faith in the government, he said.
#Gujarat's major towns and cities also saw protests by Dalits amid reports of vandalism from Ahmedabad and Jamnagar.
#Meanwhile, Punjab and Haryana also saw widespread protests.
#The Supreme Court on March 20 had banned automatic arrests and registration of criminal cases under the Scheduled Castes (SC) and the Scheduled Tribes (ST) (Prevention of Atrocities) Act, 1989.
WATCH VIDEO | 9 killed, many injured as Dalit protests against Supreme Court order on SC/ST Act turn violent