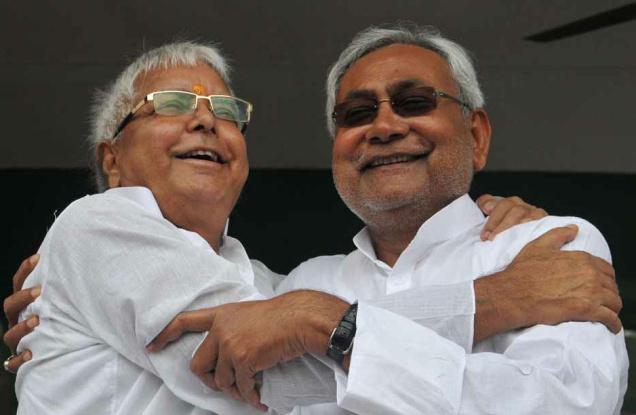 Facing Income Tax heat over alleged benami land deals worth Rs 1,000 crore through bogus front companies, RJD supremo and alliance partner of the JDU-led Grand Alliance in Bihar Lalu Prasad Yadav today trained guns at Chief Minister Nitish Kumar.
In a veiled jibe at his foe-turned-friend a day after the CM said the Centre was free to conduct any investigation into the land deals, Yadav congratulated the Bharatiya Janata Party for what he termed as its "new alliance partners".
Lalu is facing heat from tax authorities over his family members allegedly purchasing expensive property at dirt cheap prices by buying and selling shares in dubious front companies.  
In a tweet put out today, Lalu said: "(I) congratulate BJP for its new alliance partners. Lalu Yadav won't be scared or bow down. Will continue to fight fascist forces till my last breath."
Lalu's hint at the "new alliance partner" was apparently directed at the JDU which CM Nitish heads. Under pressure over the opposition's demands to forfeit the alliance over corruption allegations that the BJP has been levelling against Lalu and his kin, Nitish had yesterday said that the central government could undertake any probe that it wished to if it saw any illegality.
"If the BJP thinks there is really some merit in its allegations, it should approach the law. What sort of inquiry we (state government) can do when the allegations are not under the state's purview?" said Nitish Kumar.
As speculation over the 'alliance partner' jibe began, the RJD jumped to damage control with party leader Manoj Jha coming out to clarify that the remark was directed at the "Income Tax department, the Enforcement Directorate and the CBI".  
Deputy CM and Lalu's younger son Tejashwi Prasad Yadav, who has also been accused of acquiring land via quid pro quo, was sitting beside Nitish.
BJP में हिम्मत नही कि लालू की आवाज को दबा सके।लालू की आवाज दबाएंगे तो देशभर मे करोड़ो लालू खड़े हो जाएंगे।मै गीदड़ भभकी से डरने वाला नही हूं

— Lalu Prasad Yadav (@laluprasadrjd) May 16, 2017
अरे पढ़े-लिखे अनपढो,ये तो बताओ कौन से 22 ठिकानों पर छापेमारी हुई।BJP समर्थित मीडिया और उसके सहयोगी घटको (सरकारी तोतों) से लालू नही डरता।

— Lalu Prasad Yadav (@laluprasadrjd) May 16, 2017
Lalu's outburst comes on a day when I-T authorities are conducting raids ans surveys at 22 locations in Delhi and adjoining areas on charges of alleged benami deals worth Rs 1,000 crore, linked to RJD chief Lalu Prasad and others.
Officials said the department began raiding the premises of some prominent businessmen and real estate agents in Delhi, Gurgaon, Rewari and few others since early morning.
The searches are also being conducted at the premises of the son of RJD MP P C Gupta and few other businessmen.
While raids are being conducted at a dozen locations, ten other official premises are being surveyed by the I-T department, they said.
"People and businessmen connected to the land deal involving Lalu Prasad and his family are being searched.
There are allegations of benami deals worth about Rs 1,000 crore and subsequent tax evasion," a senior official said.
A team of about 100 tax department officials and police personnel are conducting the raids, they said.
The BJP had last week accused Prasad, his MP-daughter Misa Bharti and his two sons, both Bihar government ministers, of being involved in corrupt land deals worth over Rs 1,000 crore, and asked the central government to probe one such transaction in Delhi.
Union minister Ravi Shankar Prasad had alleged that these transactions were a case of quid pro quo as they date back to the period when Lalu Prasad was the railway minister, and dared Bihar Chief Minister Nitish Kumar to take action against him.
Lalu s RJD is a constituent of Bihar s ruling coalition led by Kumar. His sons Tejashwi Yadav and Tej Pratap Yadav are ministers in the government.
Lalu s official residence was the address of the owners of the firms allegedly floated by his family members, Ravi Shankar Prasad had said.
Several suspect land deals took place in Bihar, he said, wondering if Kumar would invoke a special law enacted by his government in which assets acquired through illicit money are confiscated in this instance.
"The politics of Lalu Prasad has become politics of loot. Land worth crores of rupees was grabbed for a pittance," he had said.
One such land deal involving Lalu Prasad and his family members is in Bijwasan in Delhi, he said.
All the companies owned by Lalu Prasad s family members for the purpose of these land transactions had no employees, no business activities and no turnover, Prasad had claimed.
Bihar's biggest shopping mall spread over 7.5 lakh square feet is coming up in Patna as part of such dubious transactions, he had alleged at a news conference held here.
Times Now, in a report, had revealed how Lalu's family members had purchased expensive property at dirt prices by buying and selling shares in dubious front companies. 
The report had exposed how Rajya Sabha member Misha Bharti, eldest daughter of Lalu Prasad, and her spouse Shailesh Kumar had acquired a farmhouse at Bijwasan, near IGI airport, where many rich and influential own properties, for just Rs 1.41 crore.
The records available with the Registrar of Companies revealed that Misha is listed as director of at least four private limited companies, along with Shailesh. 
One of the companies, Mishail Packers and Printers Pvt Ltd., was incorporated in December 2002 by the couple and registered at Lalu's official bungalow at 25, Tuglak Road, New Delhi, which was allotted to RJD chief Lalu Prasad as a Rajya Sabha MP.
As per its balance sheet, the company's business activities stopped in 2006 and its plant and machinery were sold.
In 2008-09, Mishail Packers purchased a farmhouse at 26 Palam Farms in Bijwasan for Rs 1.41 crore. Funds were arranged through sale of 1,20,000 shares of Rs 10 each in Mishail Packers, at a premium of Rs 90, to V K Jain and S K Jain, the entry operators who were arrested in March this year as part of crackdown on black money.
The shares were purchased back within less than a year by Misha and her husband at Rs 1 or Rs 2 in 2009: a transaction which should raise suspicions of money laundering.
Misha and her husband now have assets worth around Rs 100 crore, all acquired at throwaway prices through questionable share transactions. 
(With agencies)