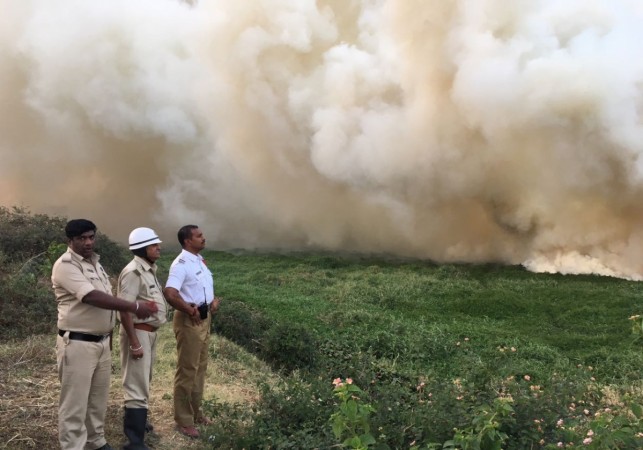 The Bellandur Lake, the largest lake of Bengaluru, burst into flames on Thursday choking the entire city.
The lake continues to be a dumping ground for toxic chemicals, despite flagging of environmental concerns.
#WATCH: Debris caught fire at Bellandur lake (Bengaluru) where toxic chemicals are dumped, smoke engulfed lake. Fire under control (16/02) pic.twitter.com/x27ru6Gz7n

— ANI (@ANI) February 17, 2017
According to officials, the fire began in the clumps of dry hyacinth and weed around the lake at about 4 pm.
"The fire is because of dry grass. Not pollutants. It was white smoke," said senior fire officer Ravi Chauhan.
Bengaluru, once a city well-known for its interconnected lake system is now being contaminated by the manufacturing plants waste and general sewage that have prompted to outrageous levels of water pollution in the city.
Ambulances and fire department were informed at Sun City lest someone should suffer any negative consequences from the plumes of smoke entering the apartments.
The smoke also reached to the nearby flyover and brought the situation in the notice of authorities by the citizens living in and around the area.
"We got a call around 5.15 pm. Our unit reached there and put out the fire. It was difficult to get there since it was sinking because of silt," said KU Ramesh, Deputy Director, Fire and Emergency Services.
This is how people immediately reacted on the emitting of lethal fumes:
Wake up @CMofKarnataka @BBMPCOMM1 . You guys are killing the citizens of Bangalore. @WeAreBangalore #Bellandur #garbage #burning @2bin1bag pic.twitter.com/ZJ7d7w42Wz

— ragskashyap (@ragskashyap) February 16, 2017
Fire near bellandur. Hope no loss of life. #bellandur #fire pic.twitter.com/2lOGIvQHJn

— Akash Baranwal (@akashbrnwal) February 16, 2017
#BBMP lost control !??? #Bellandur #lake on #fire !!!!

— toadways (@toadways) February 16, 2017
This is #Bellandur Lake in #Bengaluru The toxic content is so high, aftr froth this is D nxt stage. #ManMadeDisasters pic.twitter.com/uYExVRpEMH

— Manisha Singh (@manishabhan) February 17, 2017
#Bellandur lake catches fire (🔥🔥) once again. It goes on to show sheer callousness by the Govt of Karnataka...

@BBMPCOMM1@CMofKarnataka

— अखंड भारत 🇮🇳 (@aanand77) February 16, 2017
Heres a tragic sight that sums up expolitation n killing of #Bengaluru ! #Bellandur lake on fire this morning 😢😢 😠 pic.twitter.com/4DTF7QzZwT

— Rajeev Chandrasekhar 🇮🇳 (@rajeev_mp) February 17, 2017
See what we have done to Mother Earth. #Bellandur lake on fire. https://t.co/0ycrV5KJ4I

— Anna Balachander (@TribeWithAVibe) February 16, 2017