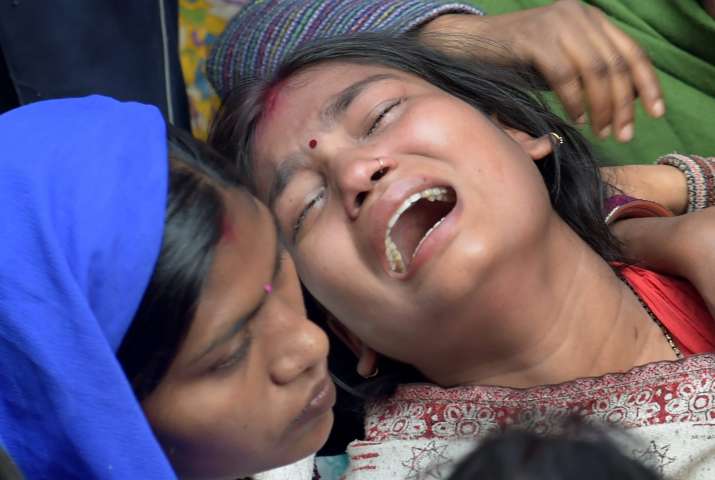 The Bawana fire tragedy case, in which 17 people were killed on Saturday, has been transferred to Crime Branch of Delhi Police by the Commissioner of Police Delhi.  Police have arrested the owner of the firecracker storage unit Manoj Jain. 
A probe revealed it was a factory of "cold firecrackers" used in stage shows and Holi celebrations, said Rajneesh Gupta, Deputy Commissioner of Police (Rohini). 
Firecracker packages found at the site suggest the same, he said. Jain had rented the factory from January 1, the DCP said.
Delhi State Industrial and Infrastructure Development Corporate has confirmed in its preliminary report that the factory was being used for packing/storage of fire crackers/explosives with out obtaning clearances. 
Delhi government has ordered an inquiry into the blaze as Chief Minister Arvind Kejriwal said he is keeping a "close watch" on the rescue operations.  
Expressing his grief over the "large number of casualties" in the fire, chief minister Kejriwal said he is keeping a "close watch" on the rescue operations.  "V(ery) sad to hear abt large no of casualties. Keeping a close watch on rescue operations," Kejriwal said in a tweet.  According to the Delhi Fire Services officials, seventeen people were feared dead in the blaze that engulfed a building in Bawana industrial area, housing a cracker and rubber manufacturing units.
Delhi Urban Development minister Satyendar Jain said an inquiry has been ordered into the incident.  "Learnt about a serious fire incident in a private factory at Bawana. Several casualties reported. Monitoring the situation. Ordered enquiry," Jain tweeted.
Congress President Rahul Gandhi also condoled the death of people in Bawana fire; wishes speedy recovery of the injured.
Seven of those killed have been identified as Baby Devi (40), Afshana (35), Sonam (23), Reeta (18), Nadeen (55), Rakho (65) and Dharma Devi (45), he said.
The fire had started in the storage unit on the ground floor of the two-storey building and ripped through the structure.
Of the 17 killed, ten were women. A man and woman were injured.
Police said an FIR had been registered under Indian Penal Code (IPC) sections relating to culpable homicide not amounting to murder, and negligent conduct with respect to fire or combustible material. The maximum punishment under the sections is 10 years.
Jain was apprehended and questioned yesterday. The other partner of Jain has been identified as Lalit Goel. 
One of the injured labourers told police that the firecrackers used to be brought from outside and were only packed at the unit.
LG meets families of those killed
Delhi Lieutenant Governor Anil Baijal today met families of those killed in the Bawana factory fire at BR Ambedkar Hospital in Rohini.
Health Minister Satyendra Jain, who accompanied the LG, said autopsies were conducted only on the bodies that had been identified. 
"We have formed a committee to look into the matter. People showed us wrappers of firecrackers, I do not think anyone has a licence to manufacture firecrackers in Delhi," Jain said, adding it was a serious offence.  Does not matter if the culprit is a private owner or a government official, action will be taken, he added.
(With inputs from Agencies)