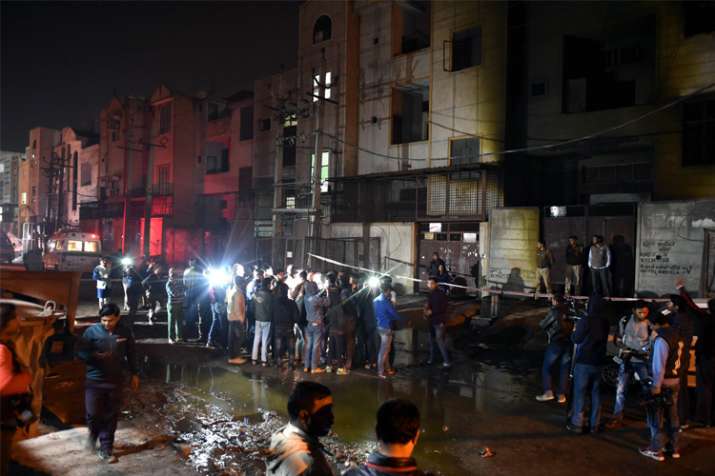 Delhi chief minister Arvind Kejriwal on Sunday ordered a thorough probe into the Bawana plastic factory fire incident that claimed at least 17 lives and announced an ex-gratia of Rs 5 lakh each to the family of the deceased. 
As many as 17 people, including 10 women, were burnt alive or asphyxiated and 30 others injured at a fire in a plastic warehouse in west Delhi's Bawana on Saturday evening, officials said.
"It is a very tragic incident. We have ordered a probe into the incident," Kejriwal told reporters after meeting the injured people at a hospital here. He said the injured will get an ex-gratia of Rs 1 lakh.
The Chief Minister said the matter will be fully probed on how the licence was given, who gave the licence and how the incident happened.
Union Minister Harsh Vardhan, Bharatiya Janata Party (BJP) leader Manoj Tiwari and Leader of Opposition in Delhi assembly Vijender Gupta and North Delhi Municipal Corporation Mayor Preety Agarwal also reached the spot.
Manoj Tiwari also announced compensation of Rs 50,000 to the victims of fire incident.
"Saddened at the loss of 17 lives in the Bawana cracker factory fire. My thoughts are with the families of the persons killed in the mishap," Harsh Vardhan said in a tweet.
He also said that the government should "enforce strict safety regulations to such hazardous industries" to avoid at least future accidents.
"Seventeen bodies have been taken out from the warehouse. As many as 30 persons, including some women, have reportedly sustained burn injuries. Some others are still feared trapped inside," a Delhi Fire Services officer said, adding that the condition of four persons is critical.
Meanwhile, a man who was apprehended in connection with the incident, has said that he took the factory premises on rent and was running it alone. 
Deputy Commissioner of Police (Rohini) Rajneesh Gupta said Manoj Jain, the owner of the factory who was apprehended on Saturday, was later arrested on Sunday. Jain told police that he was running the factory alone and had taken it on rent. 
During interrogation, Manoj said that in his factory, work of packing firecrackers used in destivals and on stage was being carried out, which did not need any licence. 
Earlier, the police had said that Jain was running the unit in partnership with one Lalit Goel. 
The police had said that an FIR has been registered under Indian Penal Code (IPC) sections relating to culpable homicide not amounting to murder, and negligent conduct with respect to fire or combustible material. The maximum punishment under section 304 is 10 years.  
(With inputs from agencies)