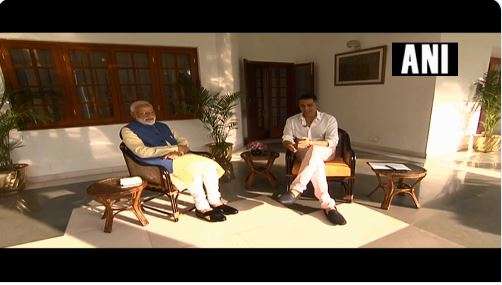 That Prime Minister Narendra Modi is a globetrotter is no hidden fact. Along his journeys to far-off nations, he has managed to strike friendship with a couple of world leaders too.
One of them is former United States president Barack Obama. Their friendship, as PM Modi says, does not depend only on the commas and full stops on bilateral issue agreements, but also on exchange of a few words of advice.
Giving a peek into his friendship with Obama, PM Modi in his "non-political interview" with Bollywood actor Akshay Kumar, said both the two leaders shared a "tu-tadak waala rishta".
"Aap sirf 3-4 hours kyun sotey hain? Aamtaur par eik shareer ko 7 hours ki zaroorat hoti hai? [Why do you sleep less?]" Akshay Kumar asked him.
To this, he said, "Abb meri body clock hi aisi ban gayi hai ki neend nahin aati. Aur abb mujhe zaroorat bhi nahin lagti. [My body has now adjusted to this sleep cycle.]"
"Waise sirf aap yeh nahin poochh rahe. Barack Obama bhi mujhse poochhtey thhay. Humaare bada tu-tadak waala rishta hai. [You are not the only one to have asked me such a question. Barack Obama often asks me the same. We share a very cordial relationship].
"Woh [Obama] mujhse eik din bole tu aisa kyun karta hai? Tujhe aaj pata nahin hai yeh tera nasha hai kaam ka, tum kartey rahoge, lekin tum bohot apna nuksaan kar rahe ho, [Obama once said to me that I was causing damage to my body by sleeping less.]" Modi added.
The first meeting between PM Modi and Obama was held in 2014 in Washington and the two leaders struck a bonhomie.
In one of his media interactions, Obama referred to Modi as "my good friend, Prime Minister Modi".
"Whenever he [Obama] meets me, he asks whether I have improved my sleep cycle or not," PM Modi told Akshay Kumar in the interaction, broadcast on Wednesday.
Watch video-