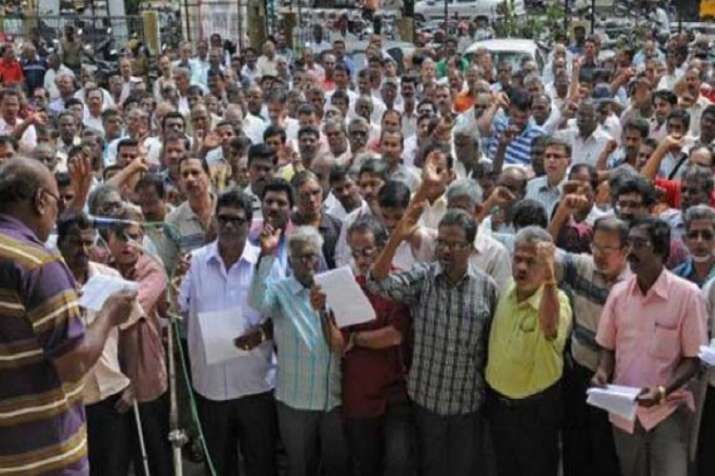 Banking operations across India are likely to be hit on May 30, 31 as Bank Unions have announced a two-day strike starting Wednesday. ATM services and salary withdrawal are likely to be affected by the strike called by employees and officers of various state-run banks over wage-related issues Online transaction will not be impacted by the bank strike.
The Bank Union have called for a strike to protest a nominal 2 per cent wage hike offered by the Indian Banks' Association (IBA). In the wage negotiation meeting held on May 5, 2018, IBA made propositions to offer 2 per cent hike in the wage bill cost as on March 31, 2017. It also maintained that the negotiations on officers demands would be restricted up to scale III officers only.
As per latest reports, ATM guards are also expected to participate in the strike. Hence, even if banks replenish ATMs with the third party, the security of the ATMs cannot be ascertained, impacting the cash withdrawals.
Banks, however, have said that they will replenish the ATMs before employees go on strike to make sure that ATMs don't go dry. Banks have also reiterated that online transactions will continue to work even as employees go on strike.
United Forum of Bank Unions' convener Devidas Tuljapurkar said that in the last two-three years, bank employees have worked tirelessly for implementation of government initiatives such as Jan-Dhan, demonetisation, Mudra and Atal Pension Yojana, among others.
In the last wage settlement, which was for the period November 1, 2012, to October 31, 2017, IBA had given a wage hike of 15 percent. Bank employees have organised demonstrations on Tuesday at State Bank of India branch main branch in Mumbai.
UFBU is an umbrella body of nine unions, including All India Bank Officers' Confederation (AIBOC), All India Bank Employees Association (AIBEA) and National Organisation of Bank Workers (NOBW).
(With inputs from agencies)