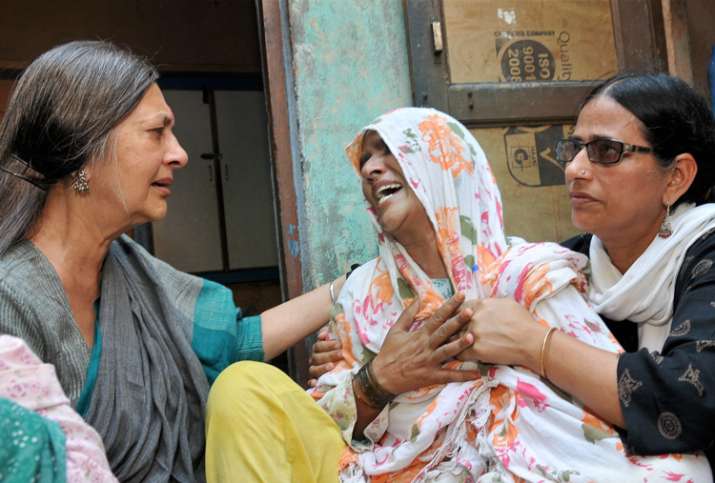 Police said investigations were on and they were hopeful of nabbing all the accused after a Muslim youth was stabbed to death by a group of people when an altercation over a train seat turned communal near Ballabhgarh in Haryana, even as the brother of the victim today narrated the harrowing experience. 
"One accused has already been arrested. He is being quizzed. Further investigations in the case are under progress," a Government Railway Police official in Faridabad said over phone. 
He said some facts have come to light on the basis of which further investigations are going on. 
"The investigations have revealed that there was a dispute over a train seat. The complainant party has said the accused used some words which hurt their religious sentiments after which the issue flared up resulting in the incident," the official said. 
Junaid (17) was stabbed to death while his three brothers - Hashim (20) and Sakir - were injured by a mob which also allegedly hurled slurs against them after the dispute over the seat onboard the Delhi-Mathura passenger train between Ballabgarh and Mathura stations on Thursday night. 
The arrested accused, before being remanded to police custody by a court in Faridabad district today, told reporters that he was in an inebriated state at during the incident. However, Hashim gave a different account indicating that there was no dispute over seats in the train. 
Giving details, he said that they finished their Eid shopping from Sadar Bazaar in Delhi and boarded a train from there on Thursday. 
"When we sat in the train, it was almost empty. When the train started running from Sadar station, a couple of stations came in between and from Okhla it was full. From there 20-25 persons boarded it. My brother Junaid was asked by an aged man who boarded the train to give seat to him. He got up and gave the seat to him. 
"All of a sudden the group of 20-25 persons who had boarded the train from Okhla station pushed us and my brother Junaid fell down. 
When I and Junaid told them why they were pushing they pointed to a skull cap on my head. They told us that we are 'Muslims, anti-nationals, Pakistani, ate beef' and then while hurling abuses at us they pulled my cap and threw it down. They also tried to pull my beard," Hashim said recounting the harrowing experience. 
Hashim said that later the group started beating him and his brothers in the train. 
"I was the eldest at 20 years of age, rest all were younger ones," he said. 
He said when the train reached Tughluqabad railway station in Delhi, he rang up his brother who was at home, for help. 
"I told him to reach Ballabgarh (Haryana). When it reached Ballabgarh, the train was full and my brother, whom I had asked for help, reached there. He too was pulled inside by this group of people and he was also beaten. When the train started from Ballabgarh for onward journey, the accused took out a knife and attacked Sakir. 
"Junaid tried to help him, but he too was stabbed. Four to five people were holding me and I was trying to free myself. In the meantime, both my brothers Sakir and Junaid fell down. They inflicted injuries on me as well. They thought both Sakir and Junaid had died..," Hashim said. 
The complainant in the case, Hasib, said the police have assured them that all the culprits will be nabbed and justice will be done to them. 
"They asked us if we could identify the accused if they are paraded before us. We told the police that we can identify every single person. They have assured that action as per law will be taken in the case and we are hopeful that we will get justice," he told reporters in Ballabgarh. 
Junaid's father Jamaluddin said they were cooperating with investigators in the case. 
"Police asked us about the sequence of events, like from where the victims had boarded the train. We told them that they had gone to Sadar Bazaar in Delhi for Eid shopping and boarded the train from there and were returning home when they were attacked," he said. 
Earlier, a CPI(M) delegation today visited the family of the victims. 
The delegation, which asked the police to ascertain the political affiliation of those involved in the "horrific mob lynching", said the accused would not dare target the victims sans "political patronage" in the BJP-ruled state. 
CPI(M) politburo members Brinda Karat and Mohammed Salim reprimanded the Centre over the attack and rued that no government representative issued a statement on the incident or met the youths' family.