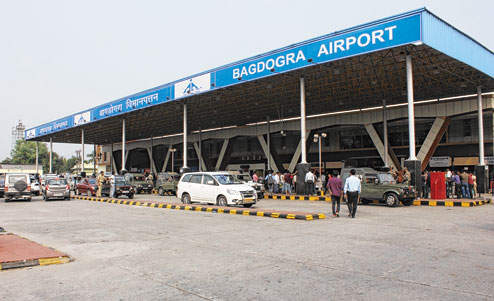 Pivotal to fly to famous tourist destinations of Darjeeling, Sikkim and other North-Eastern states, the Bagdogra airport has joined hands with a hospital chain to provide fit to fly certificate to a pregnant flier or attend to the sickness of passengers or employees.
The airport has a medical inspection (MI) unit at present but its good only to provide first aid treatment, Director of Bagdogra Airport Rakesh R Sahay told PTI. 
The airport has entered into an agreement with Desun Hospital to provide free medical services to passengers as well staff manning the airport located in Darjeeling district from mid-February onward. 
Many people complain of not being able to breathe properly after coming down from the hills of Darjeeling or Sikkim, at times pilots report a medical emergency on board, while on some occasions pregnant women need a fit to fly certificate before boarding an aircraft, Sahay said. 
He said facilities to attend to such problems are available only in Delhi and Ahmedabad airports currently. Doctor and paramedic staff would be present at the Bagdogra airport to attend to patients when the airport whenever needed, Sahay said.
Besides passengers, it would also render medicare facilities to employees of Airport Authority of India, airline or CISF personnel posted there. 
The Bagdogra airport handles 22 arrivals and as many departures of planes daily between 11 am and 7 pm. "We have entered into an agreement with the Desun Hospital in Siliguri regarding this and the agreement is for three years," Sahay said. 
The head of special projects of Desun Hospital, Javed Ali Khan told PTI over phone that the representatives of the hospital posted at the airport would attend to patients, carry out inspection and start treatment free of cost. 
"In case someone needs to be taken to a hospital, either to ours or any other hospital, we will provide free ambulance service also," Khan said. 
He said basic equipment required to attend a patient during an emergency, including oxygen cylinders, will be available also. 
"This as a part of our corporate social responsibility and we are doing this for the first time," Khan said.