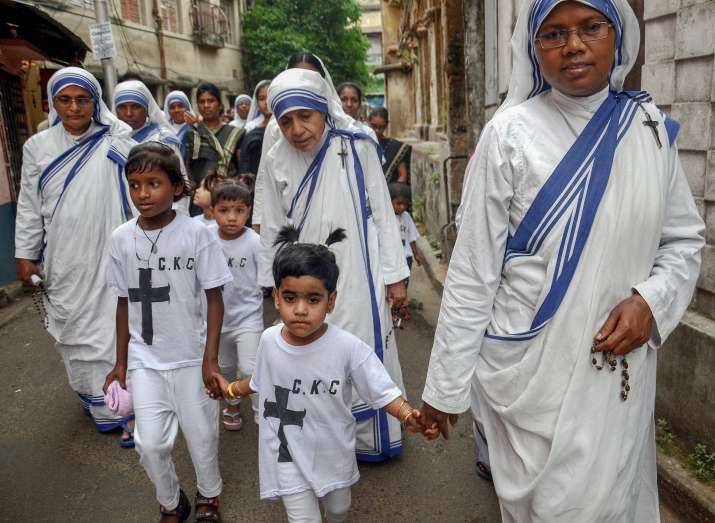 The government has asked state governments to carry out an immediate inspection of all child care homes run by Mother Teresa's Missionaries of Charity in the wake of allegations that babies were being sold for adoptions at one such shelter home in Jharkhand capital Ranchi.
While issuing directives in this regard, Women and Child Development Minister Maneka Gandhi also asked state governments to ensure that all child care institutions (CCI) are registered and linked to Central Adoption Resource Authority (CARA) within a month.
The mandatory registration of CCIs and linking to the Central Adoption Resource Authority (CARA) has been provided in the Juvenile Justice (Care and Protection of Children) Act, 2015 which came into force more than two years ago, but some orphanages had challenged the validity of this clause, a Women and Child Development Ministry official said. Approximately 2,300 child care institutions since December last year have been linked to CARA, but about 4,000 are still pending for linkage.
Gandhi has expressed displeasure that even the 2,300 institutions that have been linked to the CARA, the children available in these institutions have still not been brought into on the adoption system.
The government's directives come days after a sensational video had emerged showing a nun and an employee of a Ranchi-based shelter house, Nirmal Hriday, run by Mother Teresa's Missionaries of Charity (MoC), confessing on camera that they illegally sold newly-born babies in lieu of money.
In the video, Sister Konsalia and employee Anima Indwar were seen as confessing that they sold three children for money and gave away the fourth child for free.
The deal, according to Anima, was sealed for Rs 1.2 lakh. The details of the entire deal is yet to come out but the veil has been lifted from this racket.
(With inputs from agencies)