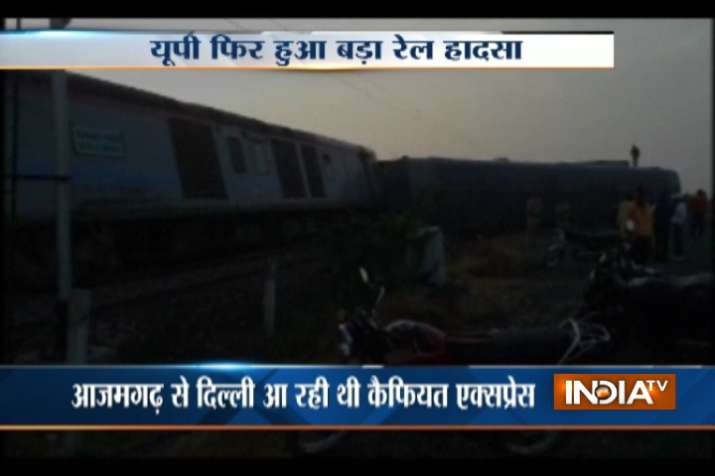 Eleven coaches, including the engine of the Azamgarh-Delhi Kaifiyat Express, derailed in Auraiya district of Uttar Pradesh this morning, resulting in injuries to nearly 50 people, in the second rail accident in the state in four days. The railway traffic has been affected on the route with inbound trains being directed to another route. 
The train travelling from Azamgarh to Delhi collided with a dumper at around 2:50 am between Pata and Achalda railway stations in Auraiya district, a spokesperson for the North Central Railway said. At least 50 passengers were injured and have been rushed to the hospital, said M C Chauhan, General Manager, NCR. 
Updates on Kaifiyat Express derailment:
10:42AM: Rescue operation has ended, restoration of track is underway
10:41AM: Dumper crossed railway fence and hit the Loco of Kaifiat Express causing derailment: No Casualty, 25Injured (21 with Simple injuries): Indian Railways 
10/ After Refreshments ,Stranded Passengers have been cleared by DEMU from Achhalda at 8:50 pic.twitter.com/YjK9RFBtv3

— Ministry of Railways (@RailMinIndia) August 23, 2017
09:01AM: All passenger trains scheduled to run on Kanpur-Tundla section cancelled & 7 trains diverted due to Kaifiyat express train derailment
08:18AM: Rescue operation over, 74 passengers received minor injuries of which 4 are critical. 2 referred to Etawah and 2 to Saifai: UP's principal secretary (Home) Arvind Kumar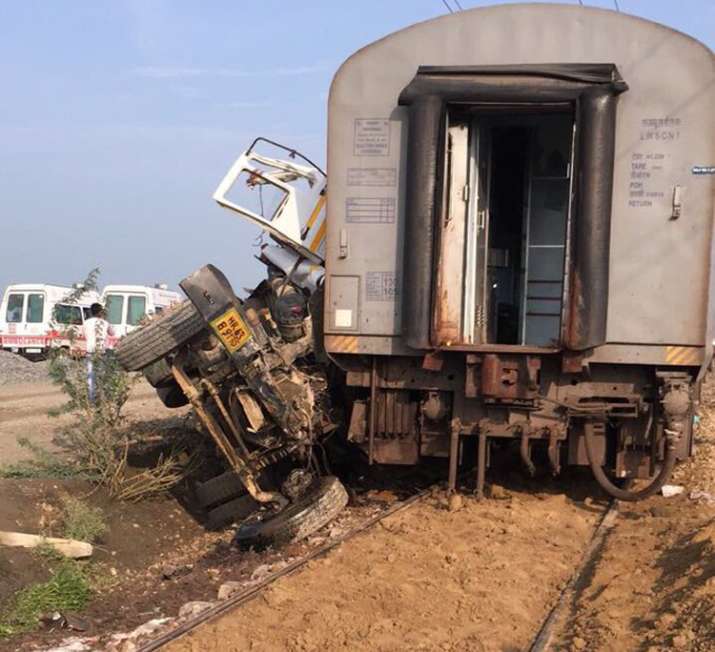 08:16AM: Due to derailment of12225 AMH-DLI Kaifiat Express between Pata-ULD in CNB-TDL section at 02:38 hrs on 23.08.2017. UP and DN movement blocked: Railways
08:11AM: 75 passengers have been injured. The Railways is working to restore the tracks, It will take nearly 24 hours to clear the route:  Avinash Chandra, ADG, Kanpur (Zone), tells India TV 
#UttarPradesh: #LatestVisuals from Kaifiyat express derailment site near #Auraiya, 74 injured. Train derailed after colliding with a dumper pic.twitter.com/5sY7N4nNEu

— ANI UP (@ANINewsUP) August 23, 2017
08:09AM: The dumper had fallen on the track just before the train was to arrive. The driver had fled after the accident: Avinash Chandra, ADG, Kanpur (Zone)
Railway Minister Suresh Prabhu said some passengers received Injuries and have been shifted to nearby hospitals.
"A dumper hit the locomotive of the Kaifiyat Express,resulting in derailment of coaches. Some passengers have received Injuries and have been shifted to nearby hospitals. I am personally monitoring situation,rescue operations. Have directed senior officers to reach the site immediately," the minister said in a series of tweets.  
Anil Saxena, DG PRO, Railways, said there is no news of any death. 
NCR sources said that work for a dedicated freight corridor was going on at the site at the time of the accident. The dumper did not belong to the railways, theysaid. 
One bogie of the train overturned due to impact of collision and some compartments jumped the rails between Acchalda and Pata railway stations after crossing Kanpur, Superintendent of Police Auraiya Sanjeev Tyagi said. 
Officials have rushed to the spot to provide rescue and relief operations to the passengers. A team of the National Disaster Response Force (NDRF) is being sent for the accident spot for rescue operations. 
This is the second rail accident since last Saturday when Utkal Express had derailed in Muzaffarnagar distict of UP, killing 22 people and injuring 156.
Trains cancelled/diverted
Kaifiyat Express travels between Azamgarh in Uttar Pradesh and Delhi and the collision has impacted the train operations on the Delhi-Howrah route. 
7/Due to Derailment of Kaifiat Express B/W Pata -Uchhhalda following Diversion/Cancellation pic.twitter.com/gMBa8RwNAe

— Ministry of Railways (@RailMinIndia) August 23, 2017
Five trains including Howrah-New Delhi Rajdhani have been diverted and seven trains including Kanpur-New Delhi Shatabdi express have been cancelled. Since both UP and DOWN lines are blocked, around 40 local trains were also being diverted. 
The Railways have launched some helpline numbers to provide assistance to families of the accident victims: 
Delhi: 011-23962389/239667332
New Delhi: 011-23342954/23341074
Nizamuddin Railway Station: 011-24359748
Anand Vihar: 9717648382/9717632791
Ghaziabad: 94122715210
Aligarh: 0571-1072/2403458/2403055
Etawah: 05688-1072/266382/266383
Khurja: 05738-1072/253084/253085/253308
Hathras: 05722-107200/242741/242742/242803
(With PTI inputs)