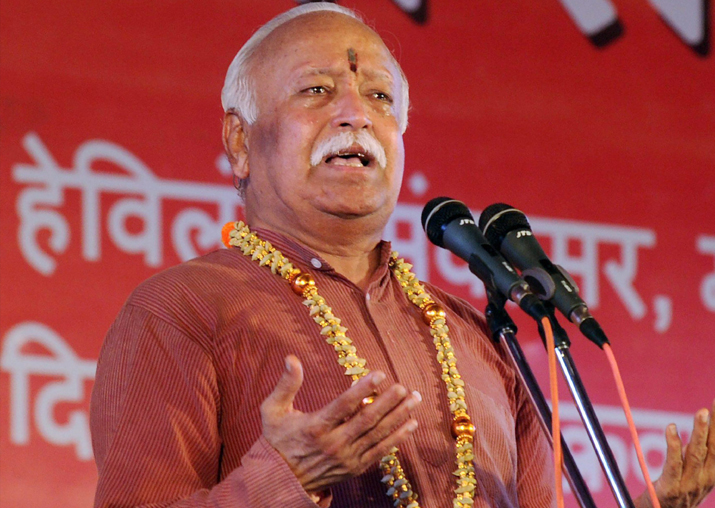 The Rashtriya Swayamsevak Sangh (RSS) has distanced itself from spiritual leader Sri Sri Ravi Shankar's attempt to mediate in the Ram Janmabhoomi-Babri Masjid case in a bid to bring all stakeholders on a common platform to find an out of court settlement.
Addressing the 'Dharma Sansad', a congregation of 2,000 Hindu saints, mutt heads and Vishwa Hindu Parishad (VHP) leaders from across the country in Karnataka's Udupi, RSS chief Mohan Bhagwat said that he had suggested Sri Sri not to get involved himself in the matter.
"There is a very popular person who also proposed to negotiate, announced in the media, which is where I heard it from... that person also came to me as well, but I said that is not my job," he said.
Bhagwat added that any such proposal has to be taken under the guidance of the 'Dharma Sansad', which is being organised by the VHP.
"Everybody has freedom and there is democracy so if anybody is willing to negotiate, they can," he opined.
"But whosoever wants to help in the negotiation, has to go through the Sansad," the RSS chief said.
Meanwhile, the VHP also said that Sri Sri should not get involved in the dispute.
"He (Ravi Shankar) did not discuss the matter with us. If he is mediating, he is doing so at his personal level. VHP has nothing to do with it," general secretary Champat Rai said.
Last week, Art of Living founder Sri Sri Ravi Shankar had met Mohan Bhagwat in Nagpur. According to reports, the two had discussed the issue of the Ram temple.
Sri Sri had earlier this month visited Ayodhya and met all stakeholders to discuss the case. The spiritual leader had said that he was confident of an out of court settlement in the matter.
In April, the Supreme Court had even said that the issue should be amicably resolved through a cordial meeting of all parties. 
The top court, after all stakeholders rejected the court's suggestion, decided to hear the case on December 5, a day before the 25th anniversary of the Babri Masjid demolition.