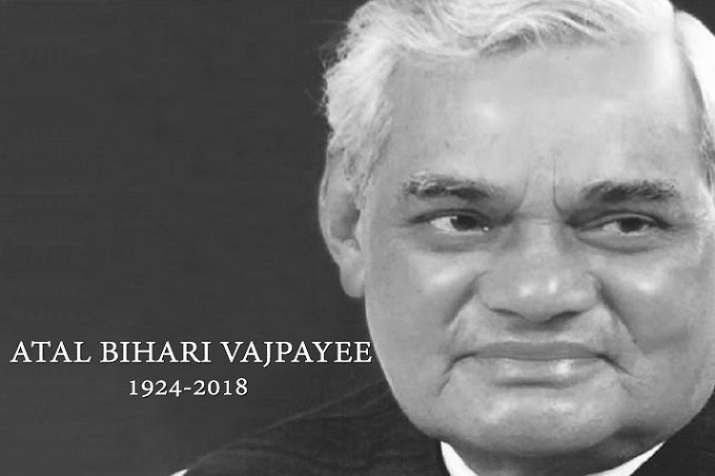 Former Prime Minister Atal Bihari Vajpayee passed away on Thursday at the age of 93. He breathed his last at 5:05 pm at All India Institute of Medical Sciences (AIIMS) in Delhi. The former PM was undergoing treatment at the hospital and was put on life support system. His condition had worsened during the last 36 hours.
The news of his demise was confirmed by AIIMS through a press release. Prime Minister Narendra Modi expressed grief on social media through a series of tweets.
India grieves the demise of our beloved Atal Ji.

His passing away marks the end of an era. He lived for the nation and served it assiduously for decades. My thoughts are with his family, BJP Karyakartas and millions of admirers in this hour of sadness. Om Shanti.

— Narendra Modi (@narendramodi) August 16, 2018
It was Atal Ji's exemplary leadership that set the foundations for a strong, prosperous and inclusive India in the 21st century. His futuristic policies across various sectors touched the lives of each and every citizen of India.

— Narendra Modi (@narendramodi) August 16, 2018
Atal Ji's passing away is a personal and irreplaceable loss for me. I have countless fond memories with him. He was an inspiration to Karyakartas like me. I will particularly remember his sharp intellect and outstanding wit.

— Narendra Modi (@narendramodi) August 16, 2018
It was due to the perseverance and struggles of Atal Ji that the BJP was built brick by brick. He travelled across the length and breadth of India to spread the BJP's message, which led to the BJP becoming a strong force in our national polity and in several states.

— Narendra Modi (@narendramodi) August 16, 2018
Others including Home Minister Rajnath Singh and Congress President Rahul Gandhi also took to Twitter and mourned the passing away of Former Prime Minister Atal Bihari Vajpayee.
Pained beyond words at the demise of Shri Atalji. He had cherished the ideal of a developed and powerful India in which all persons lived together in unity, peace and harmony.

— Rajnath Singh (@rajnathsingh) August 16, 2018
Today India lost a great son. Former PM, Atal Bihari Vajpayee ji, was loved and respected by millions. My condolences to his family & all his admirers. We will miss him. #AtalBihariVajpayee

— Rahul Gandhi (@RahulGandhi) August 16, 2018
The former prime minister's death was mourned on social media not just by the politicians, but by the entire nation.
The US grieves with India on the loss of former Prime Minister #AtalBehariVajpayee. He will be remembered for his immense contribution to bolstering #USIndia relations & for recognizing us as "natural allies." We extend our deepest condolences to the people of India. pic.twitter.com/tWQOWNV8yd

— Ken Juster (@USAmbIndia) August 16, 2018
May our former PM's soul rests in peace. #AtalBihariVajpayee thank you for everything you did for this nation. You'll never be forgotten. pic.twitter.com/RbRxbaN4cA

— Simran Chandra (@This_is_Simran) August 16, 2018
One of the few statesman who brought dignity and esteem to politics. His dream and steadfast application of Road connectivity changed and continues to change millions of lives in our country. Bowing with respect to our beloved leader #AtalBihariVajpayee ji.

— Vamshi Padala (@vamshi_padala) August 16, 2018
A great man, young India visionary, great poet, world leader, swayamsewak, most loved and admired public figure, true parliamentarian, tallest personality in Indian politics our Inspiration and a lot more which can't be expressed in words. We need you back.#AtalBihariVajpayee pic.twitter.com/Uo4WPlqWza

— Nitesh Khirwal (@niteshkhirwal) August 16, 2018
Sad to hear about demise of Former PM Bharat Ratna #AtalBihariVajpayee ji .. May Lord Bless His Soul .. My Deepest Condolences To His Loved Ones.. His Poems & Speeches Will Inspire Us Forever .. pic.twitter.com/msbNVF8yrc

— Riyaz Khan (@riyazqkhan) August 16, 2018
RIP #AtalBihariVajpayee sir. It's a huge loss for nation, I'm not in to politics much but I've always heard about his good deeds. Victory in kargil, Nuclear weapon, India-Pakistan relations and what not. Thank you for all your efforts. India needs more leaders like him. 💐

— Dhanashree Churi (@itsdhanashree) August 16, 2018
You ll always be an inspiration for generations to come...The true statesman #AtalBihariVajpayee ...you may hv left this world but you ll always live in our heart 😓😓 pic.twitter.com/4OLN5ESNk7

— Amit🇮🇳🇮🇳 (@Amitswain1) August 16, 2018