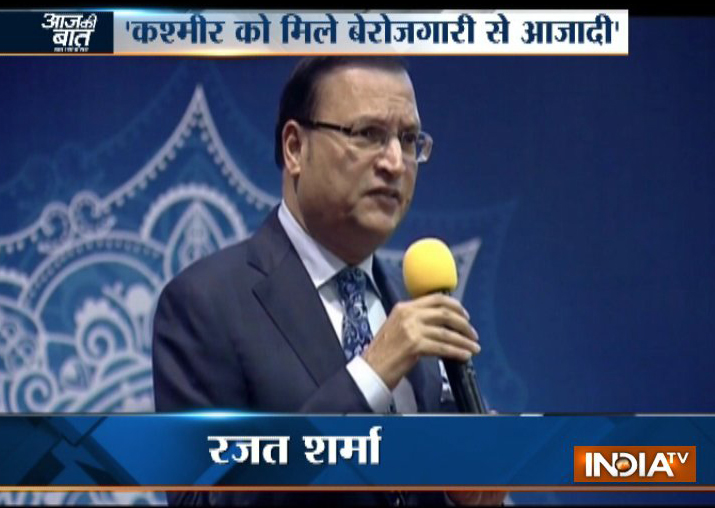 India TV Chairman and Editor-in-Chief Rajat Sharma today called for restoring peace and tranquillity in militancy hit state of India, Jammu and Kashmir.
Speaking at Art of Living's (AoL) 'Paigam-e-Mohabbat' (Message of Love) programme in Bengaluru, the veteran journalist said that the border state should be made free of poverty, unemployment and illiteracy.
Sharma further said that it hurts when reports of violence come from Kashmir. He noted that whoever dies, is son of a mother.
"We also want freedom (azadi) for Kashmir… Kashmir should be made free of unemployment, starvation, violence, bad infrastructure, poor health infrastructure. This will only become possible when peace and tranquillity prevails in Kashmir," he said.
Sri Sri Ravi Shankar's AoL said that through this programme, the motto is to provide a healing touch to the victims of the long-drawn conflict in Jammu and Kashmir.
About the programme, Sharma said, "Paigam-e-Mohabbat is a noble initiative to promote peace in Kashmir. Honoured to be part of the event. I am hopeful that the initiative which started today, will script a new history."
Around 200 affected families, including 60 women from Jammu and Kashmir attended the day-long event. Victims, including the family members of slain militants and victims of cross-firing and security personnel from across the country killed in the Valley were also present on the occasion.