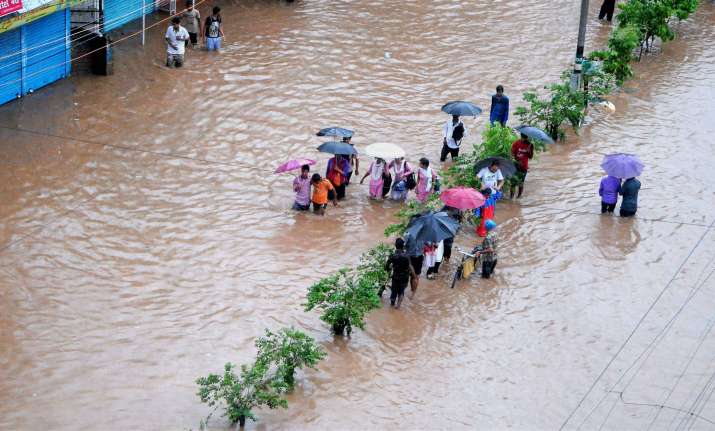 The death toll in the Assam floods climbed to 69 as four more deaths were reported on Tuesday, while nearly nine lakh people remained affected in 16 districts.
The swirling flood waters claimed a life in Dhemaji, while three others were washed away in Dhubri district, the Assam State Disaster Management Authority (ASDMA) said. Nearly nine lakh people have been affected in Dhemaji, Lakhimpur, Biswanath, Nalbari, Barpeta, Bongaigaon, Dhubri, South Salmara, Goalpara, Morigaon, Nagaon, Golaghat, Jorhat, Sivasagar, Karimganj and Cachar districts.
The worst hit district is South Salmara where 125,040 people are affected, while in Morigaon district nearly 100,000 people are facing the flood fury, the ASDMA report said. The water in the Brahmaputra and the Barak rivers, and their tributaries, have been showing a receding trend at several places in the state with cessation of rainfall.
But the Brahmputra is still flowing above the danger level at Dhubri, Dhansiri at Numaligarh in Golaghat, and the Barak at Badarpurghat in Karimganj, and Kushiara river at Karimganj. About 20% area of the Kaziranga National Park is still inundated, which has affected about 35 anti-poaching camps at Kohora, Bagori and Bishwanath ghat.
The current wave of floods has badly affected animals and poultry in the flooded districts. A total crop area of 205,587 hectares have been affected in 29 districts, the ASDMA report said. Altogether 15,205 people have been rescued by the national and state disaster response forces, Central Reserve Police Force (CRPF), army, police, forest police, and district administrations.
Around 122,850 people have taken shelter in 334 relief camps where they have been provided with food, tarpaulins, disinfectants, candles, drinking water and medicines, the ASDMA said.