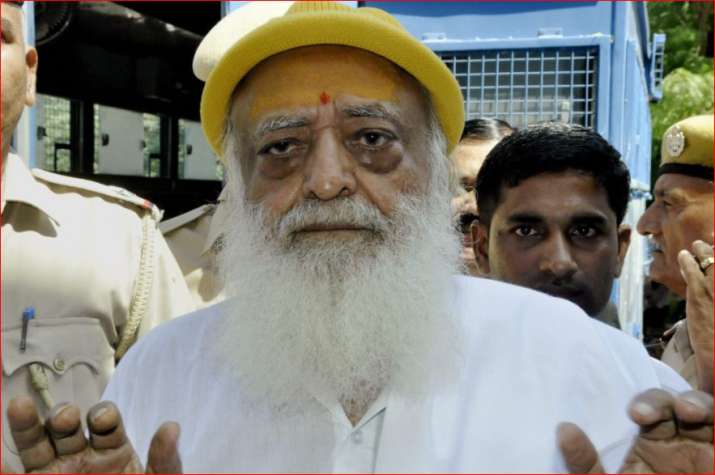 Controversial self-styled godman Asaram was on Wednesday convicted in 2013 rape case by Jodhpur SC/ST court.
The court awarded life sentence to Asaram after holding him guilty of raping a teenage girl in his Jodhpur ashram five years ago. 
The court convicted two other accused, Shilpi and Sharad, and acquitted two, Prakash and Shiva in the case.
Shilpi and Sharad have been each sentenced to 20 years in jail.
Here is a timeline of events leading to conviction to Asaram in 2013 rape case:
August 15, 2013: The victim, according to the FIR, was taken to Asaram 's ashram in Manai village near Jodhpur by her parents, who were followers of the 'godman'. The girl is sexually assaulted on the pretext of curing her of 'evil spirits'.
August 20, 2013: Victim files a complaint at a Delhi police station.
August 28, 2013: Asaram 's son Narayan Sai describes the victim as mentally unstable.
August 31, 2013: Asaram is arrested from Indore.  
September 01, 2013: A potency test is conducted on Asaram at SN Medical college, which confirmed that he was capable of performing sexual act.
September 02, 2013: Asaram is sent to judicial custody.
November 06, 2013: Jodhpur police files a chargesheet against Asaram and four other co-accused . Asaram is booked under Sections 342, 376, 506 and 509 of the IPC, as well as under Section 8 of the Protection of Children from Sexual Offences Act (POCSO).
November 8, 2013: Rajasthan HC asks the District and Sessions Court to start trial with daily hearings and wrap up the case at the earliest.
February 7, 2014: Jodhpur court frames charges against Asaram for rape, criminal conspiracy and other offences.
May 23, 2014: Asaram's personal aide, Amrut Prajapati, a key witness in the case, is shot at leading to his death on June 10.
February 13, 2015: Rahul Sachan, another witness in the rape case, is stabbed at the Jodhpur court premises. He goes missing from Kaiserbagh bus stand in Lucknow in November.
May 14, 2015:  Mahendra Chawla, another witness who had served as Asaram's personal assistant between 2001 and 2005, shot dead at his house in Panipat.
June 10, 2015: Another witness Kripal Singh is shot at in Shahjahanpur and dies a day later.
August 4, 2016: Police move a plea in Rajasthan High Court for shifting the trial to jail premises in Jodhpur.
April 7, 2018: Final argument in the case ends in Jodhpur SC/ST court of  Special Judge Madhu Sudan Sharma. The court reserves verdict for April 25.
April 17, 2018: The Jodhpur trial court is directed by the Rajasthan High Court to pronounce its judgment inside the Jodhpur Central Jail to prevent breach of law and order in the city.
April 25, 2017: The court convicts Asaram and two of his aides, acquits two other accused. Asaram is awarded life sentence while his two aides get 20 years each in jail.