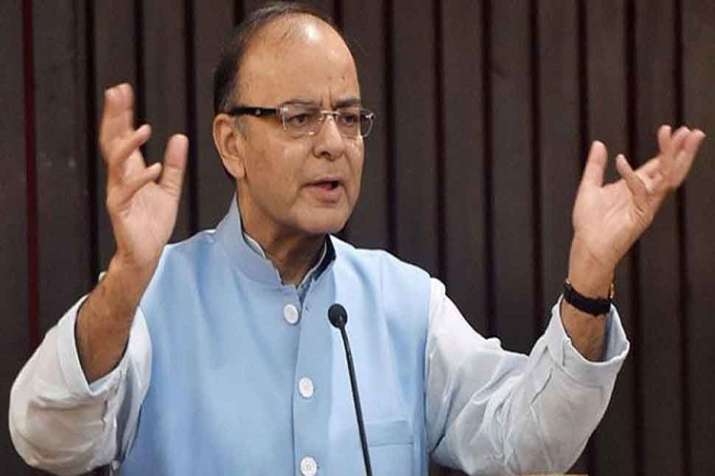 Union Finance Minister Arun Jaitley concluded his three-part series titled 'The Emergency Revisited' on Tuesday. His series of posts, spread over three days commemorates the 43rd anniversary of one of the darkest periods in Indian political history- the 1975 Emergency. 
Jaitley, like always did not mince words in criticising the Congress government for unleashing a sense of fear in people's mind and subverting democratic principles during the 21-month-long period. 
In his first part of his post, Jaitley recalled how more than four decades ago the government led by Prime Minister Indira Gandhi imposed a "phoney" Emergency and turned democracy into a constitutional dictatorship.
Indira Gandhi imposed Emergency in June 1975 and suspended key fundamental rights guaranteed under the Constitution.
"It was a phoney emergency on account of proclaimed policy that Indira Gandhi was indispensable to India and all contrarian voices had to be crushed. The constitutional provisions were used to turn democracy into a constitutional dictatorship," wrote Jaitley.
ALSO READ: Emergency turned democracy into constitutional dictatorship: Arun Jaitley
Jaitley also narrates how he became the first satyagrahi against the Indira Gandhi government's draconian move and was lodged in Delhi's Tihar jail for organising a protest on June 26, 1975.
"I led a protest of Delhi University Students where we burnt effigy of the Emergency and I delivered a speech against what was happening. The police had arrived in large number. I got arrested only to be served a detention order under the Maintenance of Internal Security Act. I was taken to Delhi's Tihar Jail for the purpose of detention," Mr Jaitley wrote.
"I thus got the privilege for organizing the only protest on the morning of 26th June 1975 and became the first Satyagrahi against the Emergency. Little did I realize that at a young age of 22 years, I was participating in events which were going to be a part of history. For me, this event changed the future course of my life. By late afternoon, I was lodged in Tihar Jail as a MISA detenu," he recalled.
He also wrote during the 21-month-long period, there was a large scale unemployment and the unprecedented price rise and investment in the economy had also taken a back seat.
In his second part of the post, published on Monday, Jaitley drew parallel between Nazi dictator Adolf Hitler and former Prime Minister Indira Gandhi and said that both turned democracy into dictatorship. He further stated that Indira Gandhi went a step ahead by endeavouing to transform India into 'dynastic democracy'.
He also wondered whether the script of Emergency was inspired by what had happened in Nazi Germany in 1933.
Jaitley further said there were a few things which Hitler did not do which Gandhi did.
"She prohibited the publication of Parliamentary proceeding in the media... Unlike Hitler, Mrs Gandhi went ahead to transform India into a 'dynastic Democracy'," Jaitley said.
"The press censorship laws imposed in India and in Germany were almost similar. You had effectively a one-party system in play," Jaitley said.
As regards the economic programme, the minister drew a similarity between the agenda of Hitler and Gandhi.
"Hitler had announced a 25 point economic programme. Mrs Gandhi had announced 20. To cover up the gap, Sanjay (Gandhi) announced his 5 point economic and social programme. Dissent became a sin and sycophancy the rule," Jaitley said.
ALSO READ: Jaitley draws parallel between Indira Gandhi and Hitler in new post, asks whether Emergency was inspired by Nazi Germany
Hitler continued to maintain that his actions were within the four corners of the Constitution, Jaitley said, adding "Mrs. Gandhi imposed the Emergency under Article 352, suspended fundamental rights under Article 359 and claimed that disorder was planned by the opposition in the country".
In his post, he also described the horrible conditions during the Emergency period and recalled his painful experiences when he was lodged in jail.
"I was lodged in Delhi's Tihar Jail for a week. Thereafter, along with twenty other detenues, I was shifted to the Ambala Central Jail. Under the conditions of detention rules, we were allowed a daily ration in which we had to manage all the meals. The budget available per detenue for the daily food was rupees three," union minister said.
In his third and final part of his blog, which was published on Tuesday, Jaitley writes how the 21-month-long Emergency turned out the pathbreaking moment of his political career. He recalled his experience when he addressed a massive public gathering at the Ramleela Maidan.
Jaitley also described how the Congress's decision to hold snap polls in 1977 backfired against the party. 
Soon after the Emergency officially ended in 1977, fresh elections were called. Congress lost by a large margin, resulting in the Janata Party's Morarji Desai becoming the first non-Congress Prime Minister of India.
ALSO READ: Arun Jaitley lashes out at Left parties for supporting Emergency, targets Lohia's followers for willingness to work with Congress
Like the previous two posts, Jaitley in this third and final post lashed out the Indian national Congress for unleashing tyranny. "The Central Government turned dictatorial, the entire system caved in. The Supreme Court became subservient, the media became sycophantic", he wrote.
He also acknowledged the work done by the Morarji Desai led BJP government to undo a lot of damage done by the Congress Party during the Emergency period. He also credited the then BJP government for spearheading the evolution of technology that made the censorship of media impossible.
The Union Minister also took a dig at the left parties saying that CPI supported the Emergency, while the CPM did not take active part in the struggle against the draconian measure. 
Jaitley also thanked both India TV Chairman and Editor-in-Chief Rajat Sharma and Union Minister of State Vijay Goel for showing "exemplary courage" during the emergency period.