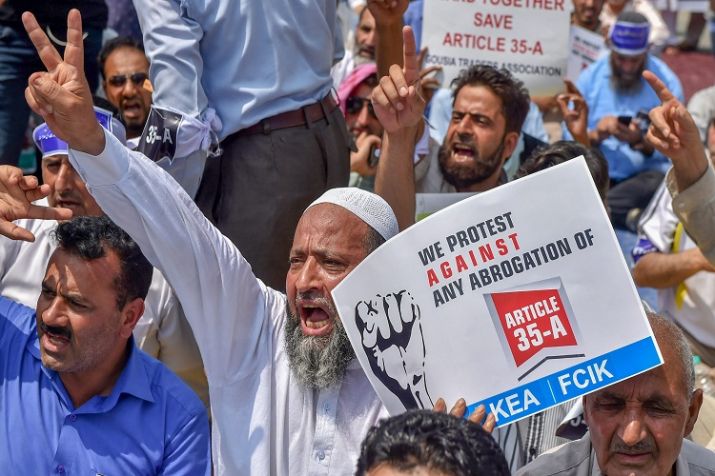 The Supreme Court is all set to hear a petition seeking the scrapping of Article 35 A in the state of Jammu and Kashmir today. According to a report in news agency ANI, the apex court will hear only lawyer and BJP leader Ashwini Upadhyay's fresh plea against Article 35A today, while the main hearing in the case is likely to take place on August 31. 
What is Article 35A ?
Incorporated into the Constitution in 1954, Article 35A is a provision that gives special rights to Jammu and Kashmir's permanent residents. It bars people from outside the state from buying or owning immovable property there, settle permanently, or avail themselves of state-sponsored scholarship schemes. It also forbids the J-K government from hiring people who are non-permanent residents. The provision mandates that no act of the legislature coming under it can be challenged for violating the Constitution or any other law of the land. Article 35A was added to the Constitution through a presidential order of 1954 with the then J&K government's concurrence.
What is the controversy over Article 35A?
Impugned on several accounts, one of the major contention raised was how did the Parliament pass Article 35A before it being inserted into the Constitution. The counter-argument by some said the President was authorised under the provisions of Article 370 to insert such an Article for the protection of the rights of state subjects of Jammu and Kashmir. 
According to the petitioner, Article 35A should be held "unconstitutional" as the President could not have "amended the Constitution" by way of the 1954 order, and that it was only supposed to be a "temporary provision".
The Jammu and Kashmir government has contested the petition, saying the President had the power to incorporate a new provision in the Constitution by way of an order.
Some call Article 35A "discriminatory" against J&K women, because it disqualifies them from their state subject rights if they married non-permanent residents. However, in a landmark judgment in October 2002, the J&K High Court held that women married to non-permanent residents will not lose their rights. The children of such women however don't have succession rights.