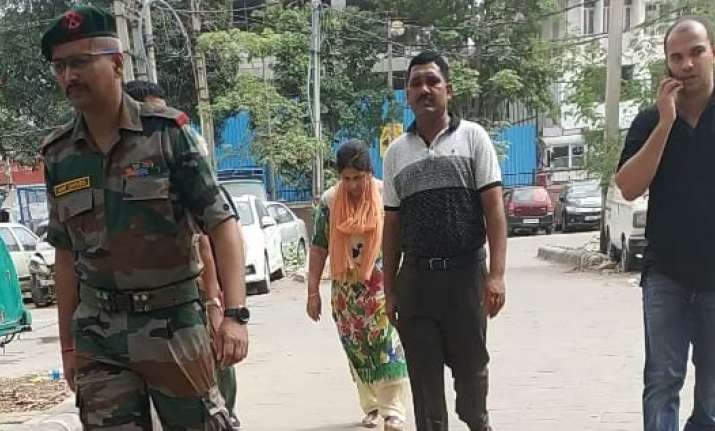 The Delhi Police has found important clues in the murder case of Army Major's wife in Delhi. Well-placed sources in the police force have said that a friend and colleague of Major Amit Dwivedi has emerged as the key suspect in Dwivedi's wife Shailja Dwivedi. The police have also recovered important clues from the victim's mobile, they said. 
The body of 30-year-old Shailja was found on a secluded road in near the metro station in Delhi Cantonment on Saturday. According to Delhi police, the woman's throat was slit and she was lying in a pool of blood. Police added that her body had marks that appear to have been caused by being run over by a vehicle. The police suspect she could have been murdered first and then run over by the killer. 
The police said that the woman had gone to the Army Hospital for physiotherapy at 10 in the morning. Her body was found at 1 pm. Her identity was ascertained after the Major went to the police station around 4 pm to get a missing complaint lodged.
Read more | Army Major's wife found dead near Delhi Cantonment, her throat slit and body run over by car
An official vehicle assigned to Major Dwivedi dropped her outside the hospital. When the driver went to pick her up, he was told that the woman had not turned up for the physiotherapy session today, the police said.
A senior police officer involved in the investigation said that motive of the murder "could be personal reasons". "We have solid clues about accused and we are sure that we will work this case out soon," Vijay Singh, DSP, West Delhi told media. 
The police sources said that the accused was a friend of the deceased and was seen with her hours before the murder. The available clues have made the police look for a love-affair angle, they added. The police have identified the vehicle in which Shailja was last spotted with the key suspect and has launched a hunt for it. 
The accused Major has been absconding since the crime came to light. 
Watch video: