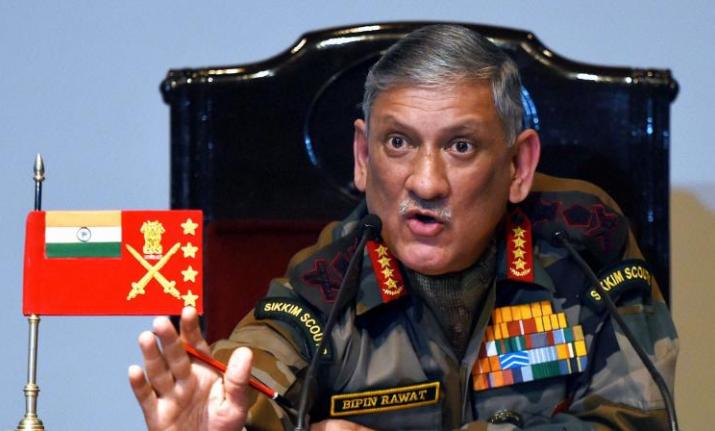 Army Chief Gen Bipin Rawat on Sunday said that surgical strikes are a weapon of surprise, and should remain one, news agency ANI reported. 
Responding to a question whether India whether India will send its forces for another surgical strike in Pakistan like the one carried out in 2016, the army chief said: "Surgical strike is a weapon of surprise. Let it remain a surprise."
Speaking on the killing of BSF soldier Narendra Singh by Pakistani troops, General Rawat said it was not the first time that Pakistan conducted such a "barbaric" act. 
"They have been carrying out barbaric acts and Pakistan Army is used to doing this. It is not the first time that they have done it," he said. 
Lashing out at Pakistan for trouble in Kashmir, the army chief also said that it only wants to bleed India with a thousand cuts.
"Pakistan wants these types of trouble (violence) to continue in Kashmir. They want that peace shouldn't return in this area. They're trying to radicalise the youth of Kashmir. Pakistan has decided to bleed India with a thousand cuts," he said in the interview. 
General Rawat also backed the government's decision to call off dialogue with Pakistan, asserting that talks and terror cannot go together.
The government had on Friday called off a meeting between the foreign ministers of India and Pakistan in New York, citing the brutal killings of three policemen in Jammu and Kashmir and Islamabad releasing postage stamps "glorifying" Kashmiri militant Burhan Wani.
Infiltration from across the border persists despite the call for a ceasefire by Pakistan, said Rawat stressing that this cannot be allowed to continue and appropriate action has to be taken to deter terrorists from disrupting the peace in the Valley. 
"The government's policy is very clear cut... You (Pakistan) show us some initiatives so that we feel that you are not encouraging terrorism. But we see that terror activities are continuing and terrorists come from the other side of the border. 
"In such an atmosphere, whether talks can be initiated that the government can only decide. I agree to the government's decision that peace talks and terrorism cannot go together," he said.