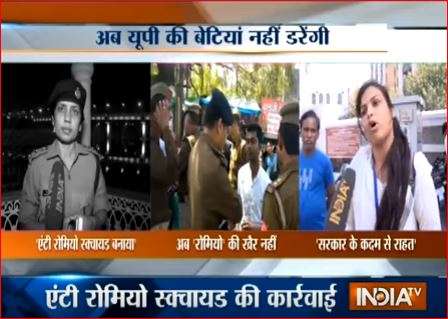 Barely three days into Yogi Adityanath's taking office as the new Chief Minister of Uttar Pradesh, the ruling BJP has started to deliver upon its key promise of setting up anti-Romeo squads in Uttar Pradesh.
The anti-Romeo squads, aimed at protecting the honour of women especially those studying in colleges, came out on streets in state capital Lucknow and Meerut on Tuesday.
The government plans to set up one anti-Romeo squad in every police station of Meerut that would comprise of three-four police personnel. 
More than one anti-Romeo squad would be formed in police stations with higher population density.  
In Lucknow, the IG office has given orders to  constitute the anti-Romeo squads in each of the 11 districts of the zone.
Many suspected eve-teasers were arrested in both Lucknow and Meerut on the first day of the formation of these squads.
"If any woman feels that she is facing problems at any place in the city, she can inform the police about that particular point, without revealing her identity," Manjil Saini, SSP Lucknow, told India TV.
Many girls who spoke to India TV said they were happy with the initiative taken by the new government.
"We stay in hostels and our parents are not with us. Under these circumstances, this initiative of the government will help us during any emergency," one of the girls told India TV.