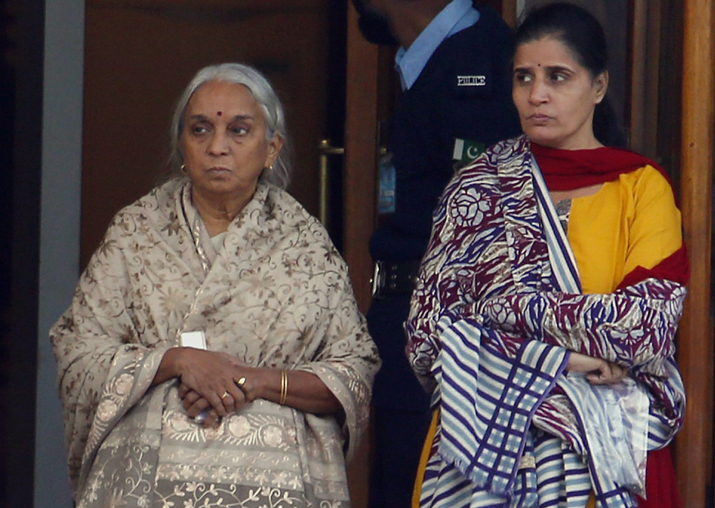 Amid uproar over India's accusations that Pakistan violated mutual understanding on Kulbhushan Jadhav's meeting with his wife and mother, a new video has emerged that shows a group of Pakistani scribes heckling the duo.
The latest video, which was shot after the meeting, shows the Indian nationals in an uncomfortable situation as they were surrounded by 'hostile' Pakistani journalists. In the video,  Pakistani journalists can be heard passing insensitive remarks against the mother and wife of Kulbhushan Jadhav. 
The video attests India's allegation that Jadhav's mother and wife were harassed by Pakistani government officials and media.
The entire episode took place in front of the Pakistani government officials. No one from the Pakistani administration side turned up to block media and rescue the Indian nationals.
Yesterday, one more video had emerged in the public domain that proves Jadhav's family members were heckled by Pakistani journalists. 
The video was captured outside the Pakistan FO where Jadhav's wife and mother were waiting for their vehicle. In the video, Indian Deputy High Commissioner JP Singh, who had accompanied them for the meeting, was visibly enraged with the remarks passed by Pakistani scribes. He had even raised objection with the security officials positioned there.
Yesterday, India had accused Pakistan of violating the mutual understanding, saying the former naval official appeared coerced and under considerable stress during the tightly-controlled interaction. The MEA also alleged that the mangalsutra, bangles and bindi of his mother and wife were removed before they could meet Jadhav.
During the December 25 meeting, whose pictures were released by Pakistan, Jadhav was seen sitting behind a glass screen while his mother and wife sat on the other side. They spoke through intercom and the entire 40-minute proceedings appeared to have been recorded on video. 
Pakistan has, however, rejected as baseless India's contention and claimed that his wife's shoes were confiscated on security grounds as there was something in it.
Meanwhile, Pakistani authorities today said that they have sent the shoes worn by Jadhav's wife for forensic examination to determine the nature of the suspected presence of a foreign object. According to media reports, the authorities were ascertaining whether the metallic object in the shoes was a camera or a recording chip.
Jadhav, who was captured in March last year, was sentenced to death by a Pakistani military court for alleged spying, an accusation that India has dismissed as concocted. New Delhi says Jadhav was kidnapped in Iran where he had legitimate business interests, and brought to Pakistan. To save Jadhav, India moved the International Court of Justice, which ordered Pakistan in May to stay his execution.