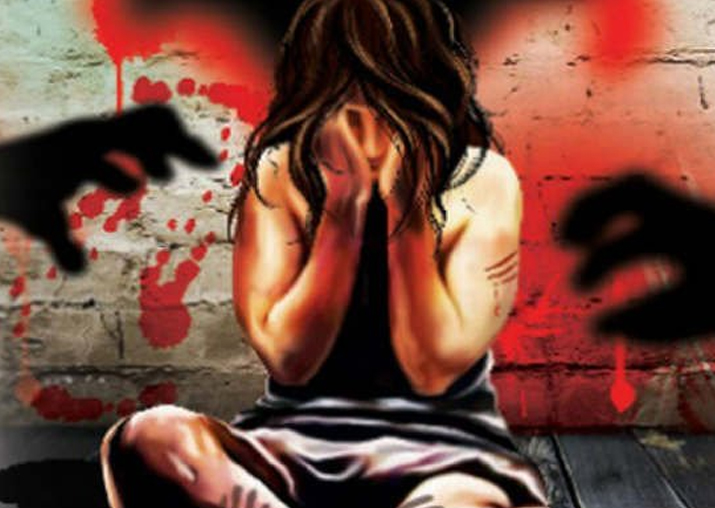 In a shocking incident reported from Vizag in Andhra Pradesh, a drunk man allgedly attempted to rape a woman on a footpath in broad daylight as passers-by refused to pay heed to woman's desperate calls for help.
A video, said to be shot by an auto driver, clearly shows that the man forcing himself on the woman in full public view. The footpath where this gory crime was culminated is believed to be on a busy road in the city.
The video shows two men pass by but none of them come to the woman's rescue.
According to local television channel ABN Telugu, the incident happened near the railway station on Srinivasa Kalyanamandapam road in the city.
The victim is believed to be a beggar and mentally challenged. She was sleeping on the street when the accused forced himself on her, it said. According to ABN Telugu, the accused has been identified as a history sheeter Ganji Siva. 
Police were reportedly informed of the incident by the auto driver who shot the video. It was on his complaint that the accused youth has been arrested.
The woman has been admitted to a city hospital and is being treated. Her family has also been informed.
Here's how people on Twitter reacted on the incident in Vizag:
Furious. We are a society of spectators. A woman got raped in broad daylight in Vizag and no one stopped. Auto rickshaw driver recorded the video to submit to the police but didn't beat the fuck out of the rapist.

— Apoorva M. (@apoorva_m1) October 23, 2017
Shameful India.. Woman raped on road at Vizag @narendramodi @ncbn .. Where are laws? Hang the bastard on the same road.

— Kadiyam Ramya (@KadiyamRamya) October 23, 2017
@ncbn @AndhraPradeshCM : what is ur admin. Pathatic. Rape @ 2pm on road @ Vizag. Where is police? Is this we are expecting from you?

— Ravi Kaipa (@KaipaRavi) October 23, 2017
Is this for real? A woman raped on a footpath in #Vizag while people walk past without intervening. Has it come down to this? Speechless

— Arunoday Mukharji (@ArunodayM) October 23, 2017
Shame, A 20-yr-old drunk man raped a woman in broad daylight on the footpath of the road in Vizag, AP; no passer-by helped the lady.

— Manish Dixit (@Manishd_) October 23, 2017
Woman raped in Vizag on foot path in broad daylight. It seems that humanity is dead totally.

— Bhaskara Rama Murti (@BhaskaraMurti) October 23, 2017