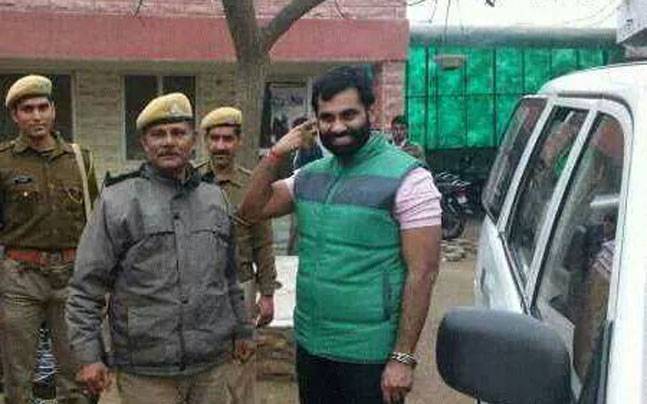 Violence broke out after a condolence meeting for slain gangster Anandpal Singh when a mob in his native village pelted stones at a police team, leaving 16 personnel, including the Nagaur Superintendent of Police (SP), injured. A woman probationary IPS officer, Monika Sen, and the gunman of the SP went missing during the clashes but were found later. The officer is fine but the gunman was injured, ADGP law amd order NRK Reddy told PTI. 
SP Paris Deshmukh and 15 policemen were injured in the violence at Nagaur district's Sanvrad village. The SP's vehicle was torched, he said. Three policemen in critical state have been referred to the SMS hospital in Jaipur, Reddy said.
"The violence broke out at the village after the meeting by the Rajput community. They also blocked a railway track but it was cleared and the agitators were removed from there," he said. 
A North Western Railway spokesperson said that a passenger train was delayed due to the blockade and some were halted at the Sujangarh Railway Station as the track was damaged. 
The meeting was held to demand a CBI probe into the Anandpal police encounter which took place on June 24 in Churu district. Anandpal, who carried a reward of Rs 5 lakh on his head, had taken a shelter in a house near a highway when he was killed by the police in an exchange of fire. 
The gangster's family are yet cremate the body and are demanding an investigation by the central agency. 
Anandpal, who carried Rs 5 lakh reward on his head, had managed to escape from custody of police while being taken back to high security prison in Ajmer from a court in Nagaur in September 3, 2015. Two cops were killed in the incident. Close to 100 aides of Anandpal were arrested from different places after his escape but the gangster remained the major challenge for the state police.
He was involved in over two dozen cases in Didwana, Jaipur, Sikar, Sujangarh, Churu, Sanganer among others and was also main accused in high profile murder cases like Jivan Ram Godara murder case of Didwana (Nagaur) and Gopal Fogawat murder case of Sikar district.
(With PTI inputs)