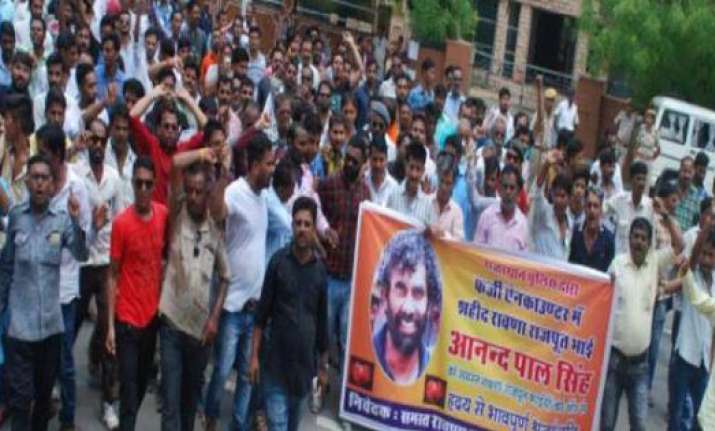 At least one person was killed and 32 people, including 20 policemen, were injured in Rajasthan's Nagaur district as clashes during a protest called by Rajput community demanding Central Bureau of Investigation (CBI) probe into the encounter of gangster Anandpal Singh turned violent on Wednesday evening. Authorities have imposed a curfew in Saanvrad, the village of the gangster, and internet connection in Nagaur district has been cut off.  
According to police, the individual killed has been identified as Haryana's Lalchand Sharma. Police said he died in the clashes while Mahendra Singh, a resident of Jodhpur, was critically injured. Singh has been admitted to the intensive care unit of a hospital.
A violent mob of around 50,000 people that had gathered at Saanvrad village, pelted stones on a police team and set an officer's vehicle and four buses on fire, injuring 20 policemen, said senior officer NRK Reddy. The injured policemen were taken to a hospital in Jaipur. 
According to reports, protestors also displaced portions of railway tracks in the area, after which train traffic was diverted for some time. 
The protestors alleged that they were fired at by the cops, while the police claimed that they used rubber bullets to try and control the mob. 
Anandpal, who carried a reward of Rs 5 lakh on his head, had taken a shelter in a house near a highway when he was killed by the police in an exchange of fire in Churu district on June 24. With more than three dozen criminal cases against him, including six of murder, he was allegedly the most wanted criminal in the state.
The gangster's family are yet cremate the body and are demanding an investigation by the central agency.

 

Rajput leaders have threatened the government and said that the community will give a befitting reply to the ruling Bharatiya Janata Party at the time of the elections.
Anandpal had managed to escape from custody of police while being taken back to high security prison in Ajmer from a court in Nagaur on September 3, 2015. Two cops were killed in the incident. Close to 100 aides of Anandpal were arrested from different places after his escape but the gangster remained the major challenge for the state police.
He was involved in over two dozen cases in Didwana, Jaipur, Sikar, Sujangarh, Churu, Sanganer among others and was also main accused in high profile murder cases like Jivan Ram Godara murder case of Didwana (Nagaur) and Gopal Fogawat murder case of Sikar district.