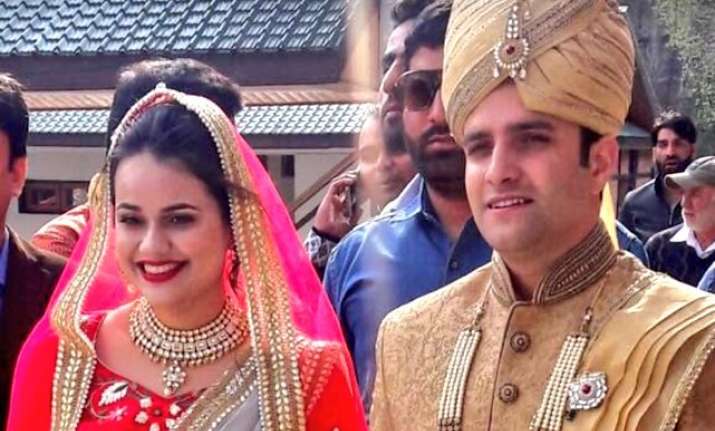 Congratulating the IAS couple Tina Dabi and Athar Shafi on their inter-faith wedding, Congress President Rahul Gandhi hoped that the two become an inspiration to all Indians in the age of "growing intolerance and communal hatred."
Rahul Gandhi took to Twitter on Tuesday to express happiness over the two tying the knot. 
"Congratulations Tina Dabi & Athar Amir-ul-Shafi, IAS toppers, batch of 2015, on your wedding! May your love grow from strength to strength and may you be an inspiration to all Indians in this age of growing intolerance and communal hatred.God bless you," Gandhi wrote.
The couple had earlier faced flak on account of a Dalit woman marrying a Kashmiri Muslim. But, shunning all inter-faith taboos, the two went on to solemnise their relationship. 
Dabi and Shafi got married at Pahalgam Club in south Kashmir. 
The event was a low-key affair. Family and friends of the couple attended the wedding that took place at the picturesque tourist resort, which is barely 30 kilometres from Athar's House.
Dabi shot into limelight after she became the first ever Dalit girl to top the UPSC examination. 
She passed the tough exams in her first attempt itself, securing just little over 52 per cent marks. Athar cleared the exams and ranked second in his second attempt.
Dabi, a graduate of Delhi's Lady Shri Ram college, was born in Bhopal and did her schooling from Carmel Convent School. Her mother is a former Indian Engineering Service (IES) officer and her father Jaswant is a serving IES officer. 
Earlier in 2016, rumours had it that the two are soon going to get married as Dabi openly talked about her relationship with Athar, who happens to be a Kashmiri Muslim. 
Khan completed his Class 11 and 12 from Srinagar's Tyndale Biscoe School. Even though he made it to the IIT, he did not join as he was offered a B-Tech course when he wanted to pursue another branch of engineering.
"This also acted as a catalyst for me to appear for the civil services and I qualified last year," he had said in an interview in 2016.