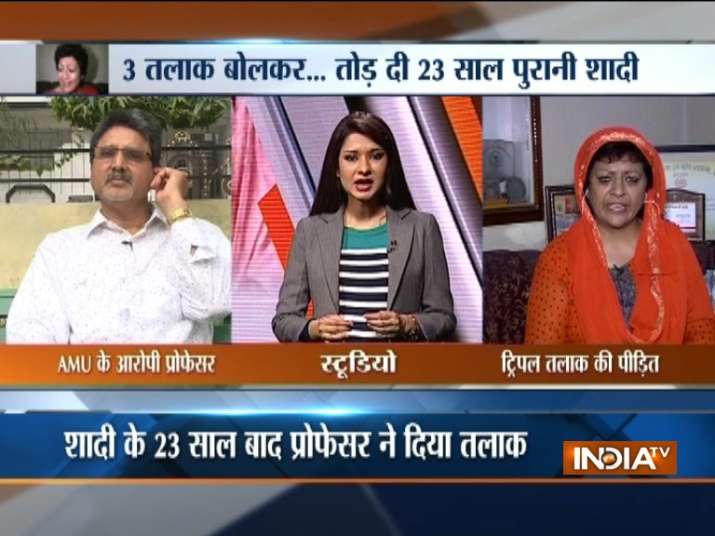 The Aligarh Muslim University (AMU) professor, against whom a case was registered for allegedly divorcing his wife through triple talaq on WhatsApp 23 years after marriage, has refuted the allegation.
"I haven't given her triple talaq. I divorced her verbally, sent the same via post and WhatsApp. After a month, I divorced her for the second time verbally and sent it via SMS, so triple talaq has not happened yet. She is still my wife until there is a third divorce," Khalid-Bin-yusuf Khan, the accused professor, said.
The Sanskrit professor further clarified that one divorce conveyed through three different means – orally, in writing, and on WhatsApp – was being taken as three divorces. 
He said that according to the law, he had served two notices on his wife after the stipulated period and was preparing for the last one.
The professor claimed he had documentary evidence to prove his wife misled him about her past.
"I have documents to prove that my wife had pledged to change her behaviour and save our marriage," he said.
The husband said he voluntarily left his official bungalow to avoid confrontations with his wife.
The professor also alleged that his wife, Yasmeen Khalid, physically abused him, thus forcing him to leave the house. 
On accusation of beating his wife, Khan said, "I am 80 per cent handicapped. If I beat her, then just imagine what will happen to me and my body."
"She has served as the female president of the Samajwadi Party in Aligarh. She is a politician and not a weak woman that anyone can beat and insult her and get away with it," he added.
Yasmin has alleged that her husband gave her instant divorce on WhatsApp. She also threatened to commit suicide in front of the vice-chancellor's house along with her kids if "justice is not done" to her. She has lodged a complaint against the professor at Aligarh's Civil Lines police station.
Yasmeen said that after 23 years of marriage, Khan, a professor and chairman at the department of Sanskrit in AMU and has been with the university for 27 years, gave her talaq first on WhatsApp, then text message and finally face-to-face.
She added that she has no choice but to kill herself along with her three children in front of VC Tariq Mansoor's house if she doesn't get justice by December 11.
The couple has two daughters and a son. While Khan has shifted to another apartment with one daughter, Yasmeen is left with the other daughter and son.
Both daughters – Ila and Ibra – have been semi-finalists in the reality show India's Got Talent.
The woman has also appealed to Prime Minister Narendra Modi and Uttar Pradesh Chief Minister Yogi Adityanath for justice.