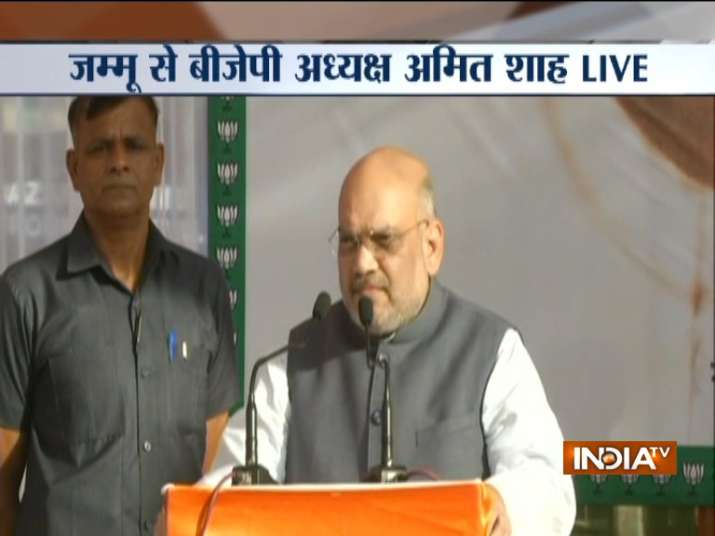 Asking Congress to tender apology for remarks made by its leaders Ghulam Nabi Azad and Saifuddin Soz on Kashmir, BJP president Amit Shah on Saturday asserted that the conspiracies hatched by the Congress party won't succeed in separating Jammu and Kashmir from India.
Lashing out at the Congress for what he called anti-national statements made by two of its senior leaders, Ghulam Nabi Azad and Saifuddin Soz, Amit Shah demanded apology from Congress President Rahul Gandhi.
"Ghulam Nabi Azad has made a statement whose words I do not want to repeat. His statement was supported by the terrorist group Lashkar-e-Taiba (LeT). What relations does the Congress have with the LeT? Saifuddin Soz has said that he agreed with former Pakistan President, General Musharraf, that Kashmiris want independence from India," he said.
Saying the Congress "seems to have come out in its true colours" after the BJP withdrew support to the PDP-led coalition government, leading to its collapse, in anticipation of the elections, he asked: "Shouldn't the Congress President question these statements of his party leaders and apologize to the nation?" 
"But, I am sure Rahul Gandhi will not do that. Jammu and Kashmir is an integral part of India and no power on earth can change this reality," he added.
The BJP chief alleged that when the Congress leaders make remarks on Kashmir,  Lashkar-e-taiba comes forward to support them.
"Rahul Gandhi should answer what kind of relation exists between Congress and LeT," Amit Shah said while addressing a rally in Jammu to mark the 65th death anniversary of Syama Prasad Mookerji.
Referring to BJP's withdrawal of support from Mehbooba Mufti government, Amit Shah said that there was no point in BJP staying in power if goal of equal development in Jammu & Kashmir wasn't achieved.
He also alleged that Mehbooba Mufti government was partial in distribution of resources to Jammu, Kashmir and Ladakh regions of the state. The BJP president said that the BJP pulled out of the Mehbooba Mufti govt as the PDP govt ignored Jammu and Ladakh regions.
"Modi govt made several efforts but partiality towards Jammu & Ladakh continued. That's when we decided that we should rather protest in opposition than staying in power," Amit Shah added.
He also alleged that the PDP did not allow the financial assistance provided by Central govt to reach  the Kashmiri pandits who were driven out of their homes.
"We had provided financial assistance for Kashmiri Pandits who were driven out of their homes 40 years ago, but PDP gave them nothing," Amit Shah said.
Shah claimed that J&K is part of India due to the efforts of Jana Sangh founder Syama Prasad Mookerjee. 
"We will never allow Kashmir to get disintegrated from India. Jammu and Kashmir is an integral part of the country," Shah told a rally to mark "historic martyrdom anniversary" of Mookerjee. 
He said Mookerjee laid down his life to integrate Jammu and Kashmir with the country along with Praja Parishad's movement. 
"It (J&K being integral part of India) cannot not change," Shah said. 
Asserting that Mookerjee is an inspiration for people and BJP activists across the country, Shah said he endangered his life and later sacrificed it in a bid to integrate J&K with India. 
"He is an inspiration for us. If J&K is today part of India, it is because of Mookerjee," Shah said. 
He also praised the Praja Parishad and its movement for the integration of J&K with India. 
"Praja Parishad is first national movement of Independent India. It is this which ensured integration of J&K with India," Shah said. 
He also appealed to the youth of the state to read the history of Praja Parishad.
Earlier in the day, Shah reviewed the party's preparations and strategy for the Lok Sabha election due next year. 
Shah reached the winter capital this morning for a day-long trip. 
The BJP chief was accorded a rousing reception with party's youth wing taking out a bike rally from the airport to the state guest house. 
Watch: Amit Shah blasts Congress leaders for their remarks on Kashmir