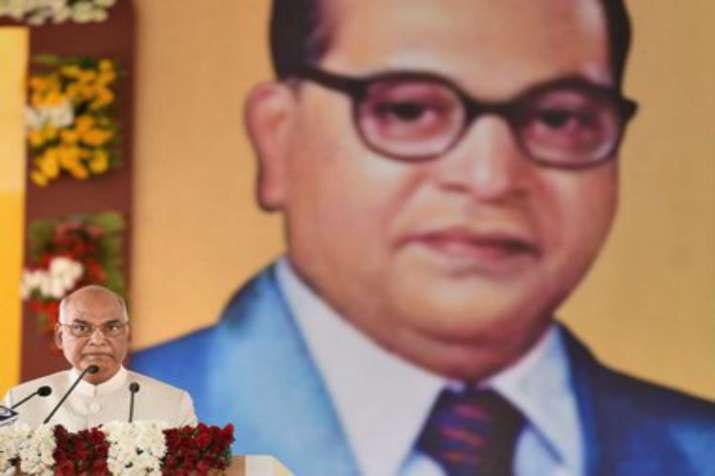 The whole nation is observing the 128th birth anniversary of the father of Indian constitution and so the politicians are. Prime Minister Narendra Modi, President Ram Nath Kovind, Congress President Rahul Gandhi, West Bengal Chief Minister Mamta Banerjee, Suresh Prabhu, and many others paid tribute to Baba Saheb Ambedkar. 
They took to their social media handles to pay tribute to the great social reformer, economist, jurist and a leader who always worked for the welfare and empowerment of weaker sections. 
We must push onwards to realise the promise our Constitution makes to each citizen, irrespective of who they are, what they eat, who they worship or don't, and who they marry. (2/2)#Justice #Dignity #OnePersonOneValue #DrBRAmbedkar https://t.co/foEMzzxKLT

— Sitaram Yechury (@SitaramYechury) April 14, 2019
संविधान निर्माता और सामाजिक न्याय के प्रणेता बाबासाहेब डॉ. भीमराव अम्बेडकर को उनकी जयंती पर सादर नमन। जय भीम! pic.twitter.com/KIZVJC725r

— Narendra Modi (@narendramodi) April 14, 2019
On Dr Babasaheb Ambedkar's jayanti, let us re-dedicate ourselves to the 4 universal values of JUSTICE, LIBERTY, EQUALITY & FRATERNITY enshrined in our Constitution.

Those who pay him tributes on this day, while insidiously weakening these values, do his memory disservice.

— Rahul Gandhi (@RahulGandhi) April 14, 2019
Tribute to BR Ambedkar, statesman and father of the Constitution of India, on his birth anniversary. Let us pledge to uphold the ideals enshrined in our Constitution - sovereign, socialist, secular, democratic, republic, justice, liberty, equality, fraternity #Ambedkarjayanti

— Mamata Banerjee (@MamataOfficial) April 14, 2019
Remembering Dr. Ambedkar on his 128th birth anniversary, his contributions in building India into a great nation. #AmbedkarJayanti pic.twitter.com/3R5hJ1ijk1

— Suresh Prabhu (@sureshpprabhu) April 14, 2019
My heartfelt tributes to one of India's greatest sons and the architect of our Constitution, Babasaheb Dr. Bhimrao Ambedkar on his Birth Anniversary. A grateful nation remembers the true statesman, historian, philosopher, jurist & emancipator of millions. #AmbedkarJayanti pic.twitter.com/J76SGFq32f

— Capt.Amarinder Singh (@capt_amarinder) April 14, 2019
Dr. Bhimrao Ambedkar was an active revolutionary against caste practices and inequality among men and women. He converted to Buddhism in 1956.
Ambedkar is the only person to receive the valuable doctorate degree named "Doctor All Science" from the London School of Economics and the highest number of statues in the world.
It was Babasaheb's idea to place Ashok Chakra in the Indian tricolor flag. He also played a major role in establishing the Reserve Bank of India.
In 1990, he was posthumously conferred with Bharat Ratna, India's highest civilian award.