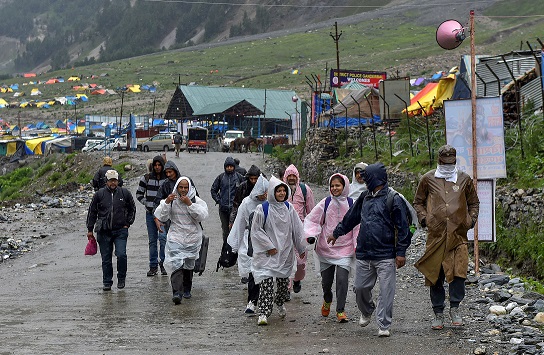 After being suspended for a couple of days due to inclement weather conditions, the annual Amarnath Yatra resumed from both the on-foot routes of Baltal and Pahalgam on Saturday. Incessant rainfall in the region for the past few days forced the authorities to suspend the yatra, but with improvement in weather pilgrims were allowed to proceed towards the cave shrine. Air sorties by the administration have also resumed from Baltal.
The Baltal route, coming from Srinagar, is of 14 kilometres, and the route from Pahalgam, coming from Jammu, is of about 32 kilometres.
Meanwhile, the fourth batch of the Amarnath pilgrims have reached the Jammu base camp. They also have been prevented from moving further due to the rainfall in the region.
Flood alert
A flood alert was sounded in south and central Kashmir after many parts of the state were lashed by monsoon rains intermittently since June 27, leaving thousands of pilgrims who have reached the twin base camps of Baltal in Ganderbal district and Pahalgam in Anantnag district stranded. 
The rains also triggered landslides and shooting stones at several places along the Jammu-Srinagar national highway Friday (June 29), but timely action by the authorities concerned ensured that the 260-km all-weather road connecting the Valley with the rest of the country, remains open. 
Officials said over 5,000 pilgrims from various parts of the country had reached Jammu to participate in the yatra. 
Jammu and Kashmir Governor NN Vohra called for an emergency meeting at his residence to on Saturday morning to discuss the flood-like situation arising in the state. Heavy rains and inclement weather has led to the rivers rising above the danger mark.
Jhelum and its tributaries were flowing above danger-level mark at several places in the state. 
People living in areas along the embankments of Jhelum, other streams and in low lying areas have been advised to remain vigilant.
Several areas in Kulgam and Shopian are facing a flood-like situation. Relief and rescue teams are already on the ground helping affected ones. 
(With inputs from agencies)