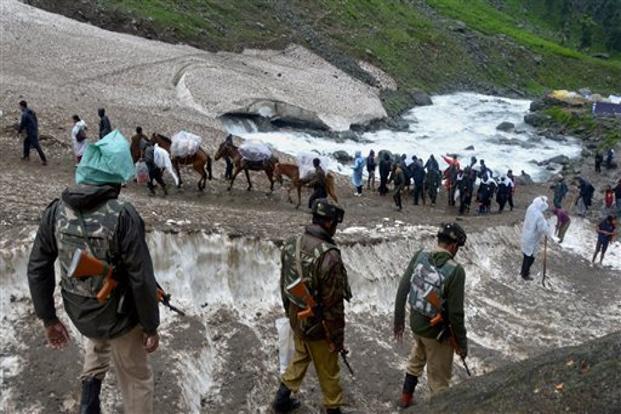 The death toll in this year's Amarnath yatra rose to six after three pilgrims died on Tuesday while they were on way to the holy cave shrine in south Kashmir Himalayas due to various causes.
According to a police official, Thota Radhnam, a 75-year-old woman from Fiwalayam in Andhra Pradesh, died of suspected cardiac arrest in a community kitchen at Baltal base camp this morning.
65-year-old Krishna Sastry, another pilgrim hailing from Anantpora in Andhra Pradesh, also died due to cardiac arrest at Sangam near the holy cave. 
Pushkar Joshi, a pilgrim from Uttarakhand, who was injured due to a shooting stone between Brarimarg and Railpathri yesterday, succumbed at a hospital in Srinagar early Tuesday.
According to an official, the bodies of the deceased pilgrims have been kept at the Baltal base camp hospital for further legal proceedings. 
With these, the death toll in this year's yatra has gone up to six including three pilgrims, one BSF officer, one palanquin carrier and one yatra volunteer.
(With PTI inputs)