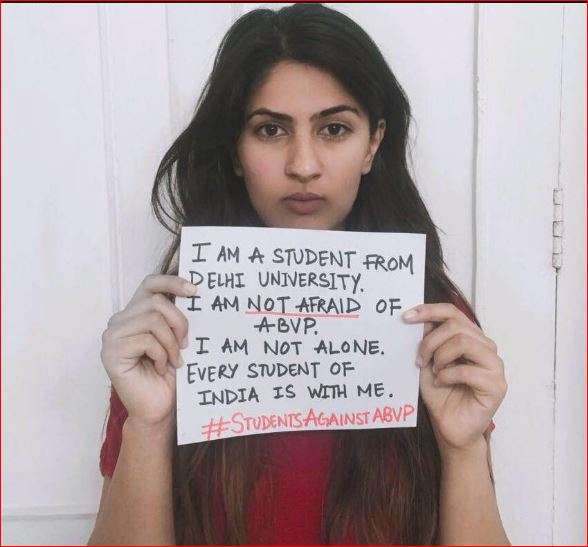 The Facebook post of Gurmehar Kaur, daughter of Kargil martyr Captain Mandeep Singh, put out in protest against "tyranny of fear" has gone viral on social media. 
Kaur's FB post has a profile picture holding a handwritten placard that read: "I am a student from Delhi University. I am not afraid of ABVP. I am not alone. Every student of India is with me. #StudentsAgainstABVP."
20-year-old Gurmehar Kaur put out the Facebook post on Wednesday hours after the ABVP activists clashed with Ramjas College students who were protesting against the college administration cancelling its invite to JNU students  Umar Khalid and Shehla Rashid to speak at a seminar on 'Culture of Protests' which was withdrawn by the college authorities following opposition by the ABVP. 
Umar Khalid was one of the JNU students who were charged with sedition last year.  Over 20 students were injured in this incident.
Upset over these clashes, Gurmehar Kaur wrote in her Facebook post, "It was not an attack on protesters, but an attack on every notion of democracy that is held dear in every Indian's heart. It is an attack on ideals, morals, freedom and rights of every person born to this nation." 
"The stones that you pelt hit our bodies, but fail to bruise our ideas. This profile picture is my way of protesting against the tyranny of fear," she added. 
Gurmehar Kaur received both voices of support as well as abuses for her post. 
Many people shared her post supporting her viewpoint and some of them even changed  their profile picture with a photograph holding a placard similar to hers.
However, enraged over her post , one Facebook user said she hadn't understood what her father had died for. Another user went to the extent of calling her an anti-national.