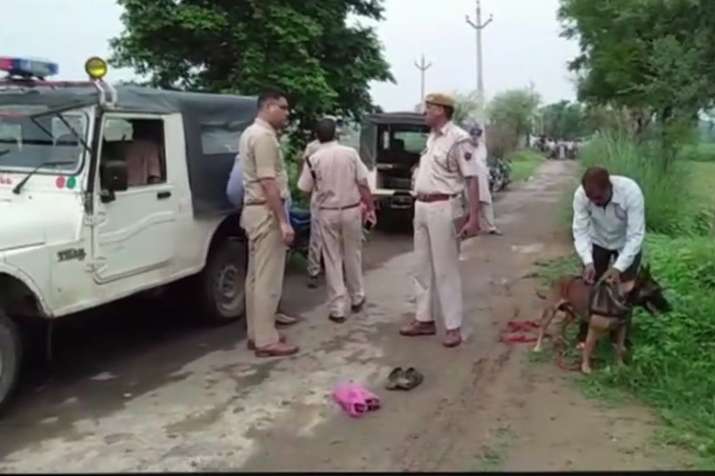 Two broken rib bones, fractured arm and limb and injuries all over the body - the post-mortem report of Rakbar Khan, who was attacked on suspicion of being a cow smuggler in Alwar last Saturday, shows the brutality with which he was thrashed by a frenzied mob.
Rakbar Khan alias Akbar Khan, 28, was beaten mercilessly by a group of people after he was spotted with a couple of cows in Alwar's Ramgarh area. Rakbar was grievously injured but alive when the police arrived at the spot. However, the cops first decided to shift the cows to a local cowshed rather than taking him to hospital. By the time he was taken to a local  hospital Rakbar had succumbed to his injuries.
'Error of judgment'
The Rajasthan Police has admitted "error of judgment" in handling the case of alleged lynching Rakbar, as it suspended one and transferred three policemen, even as it refuted allegations of "custodial death".
Also Read: Lynchings will stop if people stop eating beef, says RSS leader Indresh Kumar
Amid allegations of negligence on part of the local policemen, including for delay in taking Rakbar alias Akbar Khan to hospital, a high-level panel, set up by the state police, found four policemen guilty of dereliction in duty and suspended Assistant Sub-Inspector Mohan Singh, who was in charge of the Ramgarh police station at that time, and shunted three constables to police lines, officials said.
Since the policemen thought the victim was not serious, they decided to take him to the police station first so that the cows could be first shifted to a shelter. They also offered him water and tea, so it appeared an error of judgment,Additional Director General (law and order) N R K Reddy, a member of the enquiry panel, told PTI.
In the primary investigation, Reddy claimed the policemen have not been found involved in beating the victim. However, police said it was not a case of custodial death and whatever happened on the part of the local police was an "error of judgment in responding to the situation.
DGP O P Galhotra had set up a four-member committee. The panel comprised special DGP (law and order) N R K Reddy, Additional DGP (CID-Crime Branch) P K Singh, Inspector General (Jaipur Range) Hemant Priyadarshi and state nodal officer (cow vigilance) Mahendra Singh Chaudhary, Galhotra said.
Video showing cop 'admitting' his mistake goes viral
The action was taken after a video purportedly showing ASI Singh, who was posted at the Ramgarh police station, admitting to his "mistake", went viral.
"Mere se galti hogai...kaise bhi maan lo..saja de do ya chhodh do...seedhi si baat hai (I made a mistake...punish me or pardon me...it is simple and straight)," the ASI can be heard purportedly saying in the video.
The video of the ASI surfaced hours after allegations that the Alwar police delayed by nearly three hours the shifting of Khan to the Ramgarh community healthcare centre.
While two persons, Dharmendra Yadav and Paramjeet Singh, were arrested on Saturday, a third accused, Naresh Singh, was nabbed yesterday and they are under police custody for five days, police said.
"There are certain allegations that local police had beaten up Khan and delayed in taking him to hospital, which are being looked into," SP (Alwar) Rajendra Singh said.  
The incident was reported to police at 12.41 am on Saturday (July 21). Police reached there at 1.15 am, but they reached the hospital, which is nearly 4 km away from the scene of crime, with Khan at 4.00 am, where he was declared brought dead, as per police and hospital records.
Congress demands CBI probe
Congress leader Ashok Gehlot demanded a CBI probe into the alleged case of lynching.
This is a mystery. It was the duty of police to take the victim to hospital but instead he was taken to the police station. This is a matter of investigation. Is it not duty of CM Vasundhara Raje to set up an impartial probe? In my view, the case should be handed over to the CBI for an impartial inquiry, Gehlot said.
Former Congress MP from Alwar Bhanwar Jitendra Singh also demanded a judicial inquiry into the matter and said that such incidents occur when elections are around.
Rajasthan Home Minister Gulab Chand Kataria said that appropriate action would be taken if there was any negligence on the part of police.
BJP MP from Rajasthan's Nagaur C R Chaudhary said,"It's not like that.Police did its work.Police have arrested the accused and took injured to hospital immediately. Sometimes,media doesn't give proper message.I don't think that police lacked in its action."
The incident has created a political stir where the BJP MLA from Ramgarh constituency in Alwar, Gyan Dev Ahuja, blamed local police and the opposition Congress held by the Raje-led government responsible for the incident and demanded a judicial inquiry or a CBI probe into the case to ensure unbiased investigation.
WATCH: Rakbar Khan's post-mortem report reveals brutal attack
(With inputs from PTI)