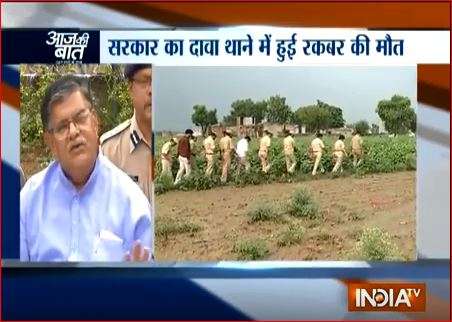 Ordering a judicial enquiry into the killing of Rakbar Khan,  Rajasthan Home Minister Gulab Chand Kataria on Tuesday said that the evidence suggested it was a custodial death. 
"We have written to the additional chief judicial magistrate to initiate a probe," Kataria told media persons after meeting the victim's family.
Kataria said that an initial compensation of Rs 1.25 lakh had been ordered for the family of the victim. 
The minister, along with chief secretary D B Gupta and DGP O P Galhotra visited Ramgarh in Alwar district today to inspect the spot where Khan (28) was allegedly lynched on suspicion of cow smuggling and inquire about the lapses on part of the police. 
In cases of custodial death, a committee constituted at the district level takes decisions regarding compensation to the family members of the deceased, Kataria said, adding that a sessions judge normally heads such a committee. 
On the lines of the Pehlu Khan lynching case, the state government has ordered a compensation of Rs 1.25 lakh to Khan's family. Further compensation will be provided based on the recommendations of the district legal committee, he added. 
The Human Rights Commission also looks into such matters to provide relief to family members and gives its recommendations to the state government, he said. 
"I have met the family members of the victim. They have expressed satisfaction about the probe being carried out in the case. I have asked them to visit my office if they have any issues," Kataria said, assuring that strict action will be taken against those who took the law into their hands.
 
Kataria said the Ramgarh police made an error of judgment as they first took the cows to the shelter and then took the victim to the hospital. 
Taking Khan to the hospital earlier could have saved his life, he added. 
A four-member committee set up by the Rajasthan Police had ordered the suspension of the assistant sub-inspector posted at the Ramgarh police station, Mohan Singh, and transferred three others to police lines. 
The action was taken after a video purportedly showing ASI Singh admitting to his "mistake" went viral. 
The police have arrested three people suspected to be involved in the attack on Khan. 
The committee will also probe whether Khan became a victim of police beating on the intervening night of Friday and Saturday.
Watch: Rajasthan Home Minister orders judicial probe into Rakbar Khan's death
(With PTI inputs)