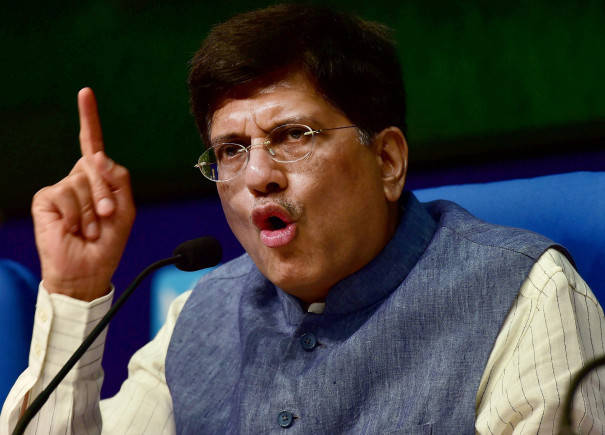 Slamming Rahul Gandhi for his remarks on the latest lynching incident in Rajasthan's Alwar, Union Minister Piyush Goyal on Monday termed the Congress president as 'merchant of hate'.
"Stop jumping with joy every time a crime happens, Mr Rahul Gandhi. The state has already assured strict & prompt action. You divide the society in every manner possible for electoral gains & then shed crocodile tears. Enough is Enough. You are a MERCHANT OF HATE," tweeted Goyal.
The Union Minister's tweet came after Rahul Gandhi commented on the Alwar lynching incident.
"Policemen in Alwar took three hours to get a dying Rakbar Khan, the victim of a lynch mob, to a hospital just six km away. Why? They took a tea-break en route. This is Modi's brutal 'New India," Gandhi said in a tweet, attaching a news report.
Gandhi's remarks came following a news report that claimed that the policemen, before taking the lynch victim to the hospital, stopped to take some refreshment.
The Congress president said that the lynching incident represents Prime Minister Narendra Modi's 'brutal New India'.
The 'New India,' the Congress chief alleged, is where "humanity is replaced with hatred and people are crushed and left to die."
Also Read | This is Modi's brutal 'New India', humanity replaced with hatred: Rahul Gandhi on Alwar lynching 
The 28-year-old victim, Rakbar Khan was allegedly lynched in Rajasthan's Alwar district Friday night by a group of people who accused him of smuggling cows. 
Khan and his friend Aslam were taking two cows to their village in Haryana through a forested area near Lalawandi in Alwar district last week when five men attacked them. Three people have been arrested in the case.