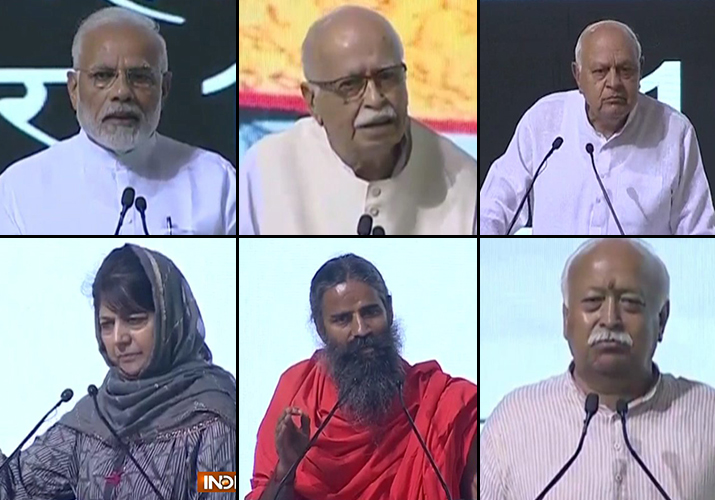 Bharatiya Janata Party (BJP) today organised an all-party prayer meeting in New Delhi today in remembrance of former prime minister Atal Bihari Vajpayee, who passed away on Friday after prolonged illness. He was 93. 
The meeting, which was held a day after the immersion of a part of former PM's ashes in holy River Ganges at Haridwar, was attended by political stalwarts from Congress, BJP, DMK, AIADMK, SP, TMC and other parties alike. 
Prime Minister Narendra Modi, BJP chief Amit Shah, party patriarch LK Advani and other senior party leaders like Piyush Goyal and Bhupendra Yadav were in attendance. The prayer meeting started with a short documentary on the life of the former PM and included brief addresses by PM Modi, LK Advani and RSS chief Mohan Bhagwat among other leaders.
Highlights: 
07:15 pm: 
Delhi: Prime Minister Narendra Modi talks to the daughter of #AtalBihariVajpayee, Namita Bhattacharya and his granddaughter Niharika after the prayer meeting for the former PM concludes. pic.twitter.com/PMnkGqhcup

— ANI (@ANI) August 20, 2018
07:14 pm: I was in Lok Sabha 1984 onwards,he was a Rajya Sabha member. I developed friendship with him gradually. He told me once, "There is always difference in opinion. But for nation's development,what cabinet decides,we implement that": MT Durai
07:12 pm: He led an absolutely unblemished life. He had a unique style. He never worried about food, lifestyle or any other thing. I pay my tributes to such a man full of love and humanity: Sharad Yadav 
07:10 pm: Although he was poetic and generous at heart,he took strong decisions,like nuclear test and Kargil war for nation.He was loved&respected by ruling party as well as opposition.We need to follow his principles to spread peace and harmony: S Mishra, BSP
07:00 pm: Atal ji had a multifaceted personality. Besides being an 'ajatshatru' he was a great poet, journalist and politician who never let the party deviate from the path of its ideology: BJP President Amit Shah
06:49 pm: Neta mein jo sabse bada hota hai wo dil hota hai, dil bada hota hai to dal bhi bada ho jata hai. Rashtra hit sabse upar,party hit uske baad,vyakti hit sabse neeche. He always made nation's interest his topmost priority: Union Min RV Paswan
06:44 pm: There are many communities around the world, when someone passes away they always write RIP which means 'Rest in Peace' but maybe after 16th Aug 2018 RIP for this great man will mean 'Really Incredible Person': Derek O'Brien
06:40 pm: If you look for definition of certain words, you have to look in the dictionary. But there's one word you don't need to look in dictionary...if you look at his face you will get the meaning of the word 'secular': Derek O'Brien, TMC
06:30 pm: Atal ji ruled everyone's heart like an emperor. He might have been away from politics for long but he ruled people's hearts. Main uss shehenshah ko naman karti hoon: Union Minister Harsimrat Kaur Badal
06:20 pm: This was Vajpayee ji who went to Pakistan and made Musharraf sahab say that they will not use the land of Jammu and Kashmir for militancy: Former J&K CM Mehbooba Mufti
06:16 pm: He was a great human being but for the people of Jammu and Kashmir he was not less than a Messiah. He was the first Indian leader who trusted the people of J&K and whom the people trusted: Former J&K CM Mehbooba Mufti
Watch full video here: 
06:15 pm: As long as he was alive he made Bharat Mata proud and he has set such an example that he will be remembered for the ages to come: Yoga guru Ramdev
​Watch full video here: 
06:10 pm: Former J&K CM Farooq Abdullah ends his speech with loud chanting of 'Bharat Mata ki Jai' and 'Jai Hind'
#WATCH: Former J&K CM Farooq Abdullah says 'Agar Atal ko yaad rakhna hai to uss desh ko banao jismein prem itna ho ki dunia jhukne aa jaaye iss desh ke saamne ki ye desh hai jo prem baant'ta hai. Wo prem baantiye, wahi hamari sabse badi shradhhanajli hogi #AtalBihariVajpaee ko.' pic.twitter.com/MYbhVArRsA

— ANI (@ANI) August 20, 2018
06:03 pm: Wo Wazire-e-Azam nahi Hindustan ke dilon ke maalik they. He was large-hearted. No one had a heart like him: Former J&K CM Farooq Abdullah
05:55 pm: Even after his death he has brought us together in one room, which is great. When I was a minister & he was leader of opposition, we used to have lunch & tea in each others office. It was not that difficult in those days: GN Azad, Congress 
05:43 pm: Atal ji's words and his life...be it someone who watched him closely or saw him from far away, everyone found him to be the same & believed in him: RSS Chief Mohan Bhagwat
​Watch full video here: 
05:33 pm: He did not become popular because he was the PM. I think he would have been as popular as he was after being the PM, had he worked in any social or political sector: Home Minister Rajnath Singh
05:28 pm: Not only India but the entire world is pained because of the death of Atal ji: Rajnath Singh
Watch full video here: 
04:57 pm: I consider myself fortunate that my friendship with Atal ji lasted for 65 years during which I watched him closely. Working together, we shared our experiences, watched films together and read books together: Advani
04:54 pm: I have addressed several public meetings but I had never thought that I will once have to address a meeting like this, a meeting where Atal ji would not be there: Senior BJP leader LK Advani at Atal Bihari Vajpayee's prayer meeting
04:53 pm: Senior BJP leader LK Advani addresses the prayer meet
Watch full video here: 
04:50 pm: When some were cornering India on the Kashmir issue, it was Vajpayee Ji who changed the narrative. Due to Vajpayee ji, terrorism became an important issue at the world stage: PM 
04:47 pm: When Atal Ji formed the Government for 13 days, no party was willing to support him. The Government fell. He did not lose hope and remained committed to serving the people. Atal Ji showed the way when it came to coalition politics: PM
04:45 pm: Atal Ji as PM created three states, which are prospering. The process of creating these states was peaceful and without bitterness: PM 
04:40 pm: Atal Ji's efforts ensured Indian became a nuclear power. He attributed the tests of 11th May 1998 to the brilliance of our scientists. Two days later, India tested again & showed what a strong political leadership can do. He never buckled under pressure. He was Atal after all: PM
04:39 pm: Atal Ji spent several years in Opposition. Not once did he compromise on his ideology. He distinguished himself as a Parliamentarian and was proud of our Parliamentary traditions: PM
04:38 pm: Atal Ji's was a life for the people of India. In his youth itself he decided that he wants to serve his fellow Indians. He entered politics when only one party held sway over the political discourse: PM
04:37 pm: We cannot control the length of life but quality of it is under our control, and Atal ji taught us how life should be lived: PM Modi at former PM Vajpayee's prayer meeting in New Delhi
04:37 pm: PM Modi addresses the gathering at the prayer meeting
Watch full video here: 
04:30 pm: 
मैं जी भर जिया, मैं मन से मरूँ। लौट के आऊँगा, कूच से क्यूँ डरूँ ... #AtaljiAmarRahen pic.twitter.com/oycsKOLOpu

— BJP (@BJP4India) August 20, 2018
04:15 pm: 
Union Minister Rajnath Singh, senior Congress leader Ghulam Nabi Azad, RSS chief Mohan Bhagwat, senior BJP leader LK Advani & former Jammu and Kashmir CM Mehbooba Mufti at the prayer meeting for #AtalBihariVajpayee in Delhi. pic.twitter.com/lSL1SpcQRl

— ANI (@ANI) August 20, 2018
04:00 pm: UPA chairperson Sonia Gandhi and Rahul have informed BJP that are unable to attend the prayer meet as it is the birth anniversary Rajiv Gandhi. Other senior Congress leaders like Ghulam Nabi Azad and others are however present in the meeting.
Watch video: Former PM Vajpayee's ashes immersed in Ganges