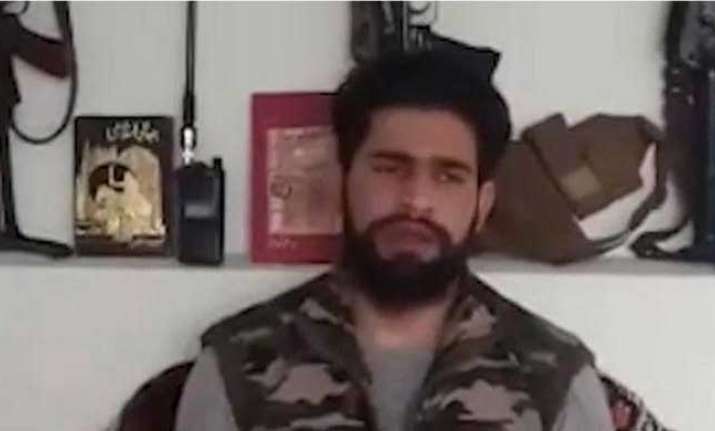 In what comes as a major security challenge for security agencies, Al-Qaeda has formally announced establishment of a Kashmir unit and has appointed former Hizbul Mujahedeen commander Zakir Musa as its chief. Musa, who once threatened Hurriyat leaders with beheading for calling the Kashmir issue "political", will lead al-Qaeda's newly created cell Ansar Ghazwat-Ul-Hind in Kashmir. 
Musa quit the Hizbul Mujahedeen in May 2017 after the group refused to back his statement threatening Hurriyat leaders. He was one of Burhan Wani's successors after he was killed by security forces in July last year. 
Al-Qaeda's online propaganda arm Global Islamic Media Front today published the "statement of establishment" of its Kashmir cell. 
"After the martyrdom of heroic Mujahid Burhan Wani the Jihad in Kashmir has entered a stage of awakening, as the Muslim Nation of Kashmir has committed to carry the flag of Jihad to repel the aggression of tyrant Indian invaders, and through Jihad, and with the aid of Allah only, we will liberate our homeland Kashmir," the purported statement said. 
"For this goal, a new movement of Jihad has been founded by the companions of martyr Burhan Wani under the leadership of Mujahid Zakir Musa," the statement said. 
Though there have been speculations earlier that Al-Qaeda was making inroads in Kashmir, this is the first official confirmation from the terror network about its presence in the state.
Though political separatist leaders and militant commanders have been denying a link between Kashmir militancy and jihadi movements like Al-Qaeda and Islamic State but Musa, who succeeded Wani after his July 2016 killing, in an April video message made his intentions clear.
Musa has often voiced support for Al-Qaeda and Islamic State since quitting the Hizbul Mujahedeen. Earlier this month, armed youths claiming to be followers of Zakir Musa had stopped a crowd gathered during the funeral processions of militants from raising pro-azadi and pro-Pakistan slogans.
He once called Indian Muslims 'most shameless' for not joining Islamic jihad.
"They are the most shameless Muslims in the world. They should be ashamed of calling themselves Muslims. Our sisters are getting abused and dishonoured and Indian Muslims keep screaming that 'Islam is peace'," Musa had said in an audio recording last month. 
The militant also threatened to kill Hurriyat leaders if they spoke for nationalism and deny that the struggle in Kashmir was for the establishment of strict Islamic code.
Interestingly, Hizbul Mujahideen commander Syed Salahuddin, who is based in Pakistan, released a video statement on Wednesday urging Kashmiris "not to join any global jihadi movement".
"Some of our friends are playing in the hands of our enemy and trying to create divide between people and their leadership. Our movement is an indigenous movement. The freedom movement of Jammu and Kashmir has no worldwide agenda, no links with organisations like Islamic State or Al-Qaeda.
"Such organisations have no role in Kashmir," Salahuddin said in a five-minute video clip.