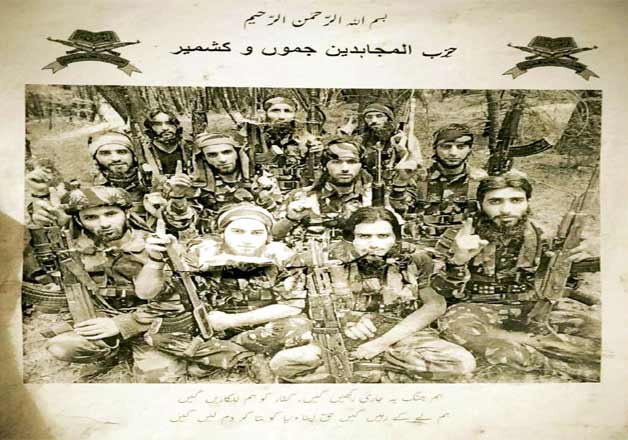 A fortnight after the killing of Hizbul Mujahideen's top commander Burhan Wani, the banned terror group has now released a new Wani-like poster of militants, pledging to continue their fight for 'azadi' in the Valley. 
According to a Hindustan Times report, the poster features 11 militants dressed in combat gear and holding AK-47s in an orchard. Uploaded on the website of the local daily Kashmir Reader, the poster reads, "would continue to challenge the army". 
It also carries an Urdu couplet that reads, "Hum Jung ye jari rakhein gay, Kufar ko hum lalkareingey, Hum leke raheingey hak apna, duniya ko bata kar dum lengey." (We will continue this war and fight the enemy. We will secure our rights and prove to the world). 
The poster is similar to a photograph that was released by the organisation two years ago and showed Wani, along with 10 associates, announcing entry into armed insurgency. 
The photograph had given a clear indication about more and more well-education youth joining the terror outfit, who were not only social-media savvy but also did not fear of being identified as they did not wear any masks. 
On the other hand, police asserted that the militants in the recent poster looked dull and lacked the intensity as the earlier photograph, which included Wani and attracted many to armed insurgency in the border state.
"Burhan picture was full of life, the boys appeared stylish and suave. More than anything, they looked happy and convinced about what they were doing. This poster lacks that," Hindustan Times quoted a police source as saying. 
The violence sparked in the Kashmir Valley after the encounter of Hizbul Mujahideen's poster boy Burhan Wani lasted for about two weeks and left 45 people dead and nearly 2,000 wounded. 
Burhan, who had a bounty of Rs 10 lakh on him, is believed to have taken up the gun to avenge his elder brother's humiliation by the security forces who made him do squats after picking him up for no crime.
Innumerable images of Burhan and posts extolling him were uploaded on social networking sites like Facebook which the security agencies had got removed but that did not erase his popularity.
His last video had appeared on the social network after the killing of three policemen at Anantnag in South Kashmir last month in which he had threatened to carry out more attacks.