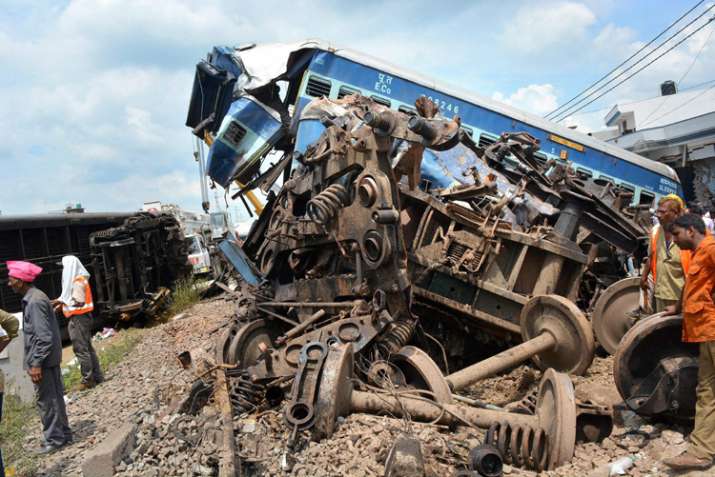 Hours after Railway Minister Suresh Prabhu asked senior most official in the ministry to fix "responsibility on prima facie evidence by end of day" the Indian Railways on Sunday took action against eight of its senior officials, including a secretary-level Railway Board official. The Railways sent on leave its three top officials, suspended four and transferred one in the wake of the accident which appeared to have been caused by negligence.
Here are the officers against whom the action has been taken:
Aditya Kumar Mittal, Member (Engineer) in the Railway Board 
A Railway Ministry statement said Mittal, a secretary level officer, has been sent on leave with immediate effect. Mittal is the senior-most functionary to be sent on leave in the wake of the accident, said a Railway official, describing it as an "unprecedented move". Officials are usually sent on leave till the time the probe is over and the responsibility fixed. 
As Member (Engineering), Mittal, a 1978-batch officer of the Indian Railway Service of Engineers (civil engineering), was the senior-most officer in charge of tracks, land, civil engineering projects and station development. 
R K Kulshreshta, General Manager (Northern Railway)
Kulshreshta, a 1980-batch Indian Railway Electrical Service officer, had visited the accident site Saturday night and was part of the first central team which inspected the damaged track. Kulshreshta has over a year left as GM. He has been sent on leave with "immediate effect."
R N Singh, Divisional Railway Manager (Delhi) 
Singh, a 1986-batch officer of the Indian Railway Services of Engineers, was also the part of first central team which inspected the damaged track on Saturday night. Along with Mittal and Kulshreshta, he has also been sent on leave with "immediate effect."
Singh had taken charge as DRM of Delhi Division only in April this year. Before that, he was Executive Director in Railway Board where he spearheaded expeditious completion of track upgrade and modernisation of Indian Railways. 
Four officers suspended
Kulshreshta, before being sent on leave had ordered the suspension of four officials — Senior Divisional Engineer, Delhi division, R K Verma, Assistant Engineer (Meerut) Rohit Kumar, Senior Section Engineer (Muzzafarnagar) Inder Jeet Singh and Junior Engineer (Khatauli) Pradeep Kumar.
Alok Ansal, Chief Track Engineer
Along with four suspended officials, action has also been taken against Chief Track Engineer Alok Ansal. Kulshreshta, along with the order to suspend four officers, transferred Ansal.
The action against the eight officers came hours after Member (Traffic) of the Railway Board, Mohd Jamshed, indicated that negligence appeared to have caused the derailment in which 22 people were killed and 156 injured, 26 of them critically.
"This is the strictest possible action that could have been taken and the intention was to send out a message that officers at each level have to take responsibility. It is a clear case of negligence," a senior Railay Ministry official said while refusing to be identified.
The action was taken on the basis of an internal report which is learnt have said that the rail track was found cut by a hacksaw and as a result there was a gap in the tracks, according to officials in the know.
The report also said that the fish plate and the nut bolt on a section of the tracks were not fixed properly, they said.
FIR registered against unknown persons
An FIR has been registered against unknown persons in the derailment of Kalinga Utkal Express in Muzaffarnagar district, police said on Sunday. 
"On August 19, 2017, at around 5.45 pm (1745), 18477 Kalinga Utkal Express, which was going from Puri to Haridwar, derailed near Khatauli railway station, and was damaged. In this regard, sub-inspector Ajay Kumar Singh, who is also the police post in-charge of GRP Khatauli has lodged an FIR at 11.30 pm (2330)," a UP police spokesperson said in a press release here. 
"The FIR was lodged under sections 287 (negligent conduct with respect to machinery), 337 (causing hurt by act endangering life or personal safety of others), 338 (causing grievous hurt by act endangering life or personal safety of others), 304a (causing death by negligence) and 427 (mischief causing damage to the amount of fifty rupees) of the Indian Penal Code and sections 151 (damage to or destruction of certain railway properties) and 153 (endangering safety of persons travelling by railway by wilful act or omission) of Railway Act against unknown persons," he said.
(With PTI inputs)