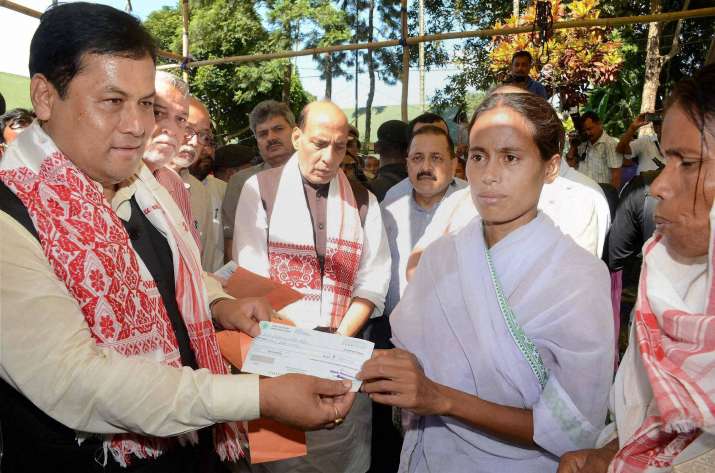 Facing the grim consequences of floods, the victims in Assam have been given a compensation of Rs 4 lakh by the state government, after the Union Home Minister Rajnath Singh made an aerial survey of the flood-hit Nagaon and Morigaon districts and Kaziranga national park area.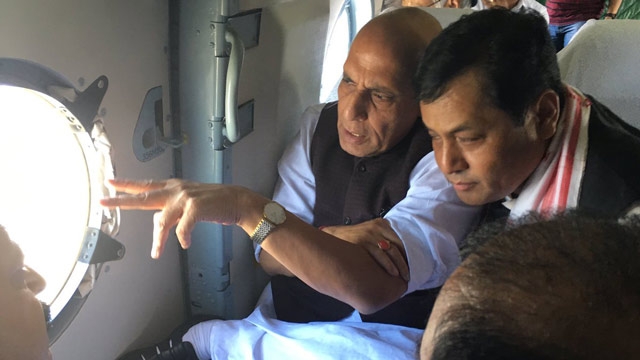 Assuring complete assistance from the Centre, Rajnath asked the Assam government to develop an effective action plan to tackle the situation.
"I have visited some of the flood-hit areas of Morigaon, Nagaon and Kaziranga national park to review the situation. I felt that the situation is really serious. I have requested Assam Chief Minister Sarbananda Sonowal to help the flood-hit people in the best possible way and the Central government will extend all possible help to the state government to deal with the situation," said Singh while interacting with reporters at the Lokapriya Gopinath Bordoloi International (LGBI) Airport before leaving for New Delhi.
He said about 36 lakh people of the state have been affected by the current wave of floods in 28 districts of the state. "A total of 26 people have died due to floods within one week," he said while appreciating the way the state government is dealing with the situation.
Accompanied by DoNER Minister Jitendra Singh, Assam Chief Minister Sarbananda Sonowal, Assam Finance Minister Himanta Biswa Sarma and other senior bureaucrats during, the Home Minister also visited a relief camp near Jagiroad in Morigaon district and interacted with the inmates there.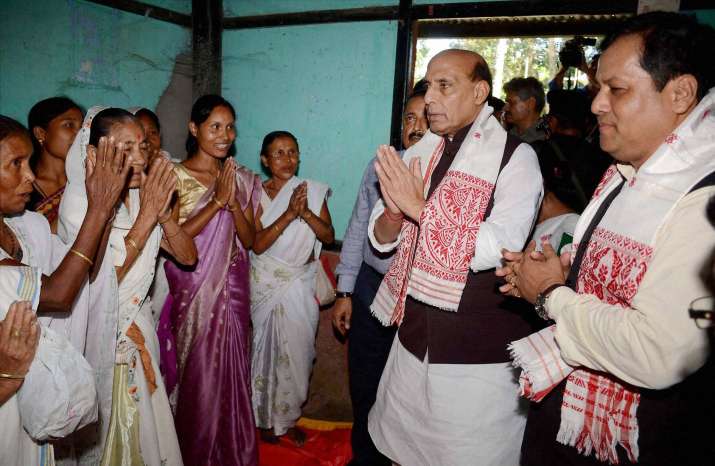 "The Chief Minister has already submitted a memorandum to me and on my return to New Delhi, we are going to consider all the demands included in the memorandum," he said adding that the Central government will give more funds to the state government after the Central team visits the state and assess the overall flood damage.
Appreciating the role of agencies like the National Disaster Rescue Force (NDRF), the State Disaster Disaster Rescue Force (SDRF) and the Army, Singh said they have been working effectively with the concerned district administrations to help the marooned people and they have saved over 6,000 lives in the last few days. Singh expressed his happiness to see that all the peoples' representatives in Assam are there with the flood-hit people in their respective constituencies.
On asked about declaring Assam's flood as a national problem, he said by declaring flood as a national problem will not solve the matter. "We must find out what the cause of the floods is and how to mitigate the problem. We have already asked the state government to prepare an action plan in this regard," he said.
Singh further stressed that the embankments of the rivers in the state should be strengthened and repaired as a short-term measure to stop floods but added that the Central government has been contemplating some long-term measures to find a lasting solution to the flood problem in Assam.
(With IANS inputs)