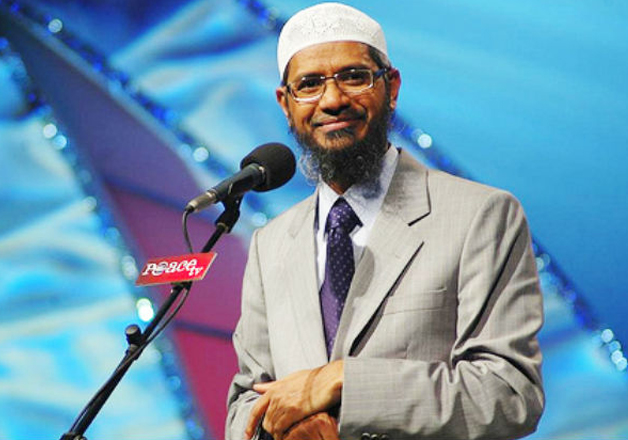 Mumbai: After repeatedly being shunted out of other places in the Mumbai city, controversial Islamic preacher Zakir Naik has finally found a third venue to interact with media on Friday. His Islamic Research Foundation (IRF) has confirmed that organisers have booked a banquet hall in Mazgaon, one of the seven islands of Mumbai, and Naik will address presspersons via Skype.
This is the fourth time in a week that IRF has announced a fresh venue to conduct a media interaction with its founder chief.
"Zakir Naik is scheduled to address media via Skype at Banquet Hall, near Mazagaon Garden around 9.45 on Friday morning," IRF spokesperson said here on Thursday late evening.
The new venue was finalized hours after the foundation was forced to abruptly cancel Thursday's event scheduled at Mehfil Hall in Agripada, after a pre-midnight call led to the cancellation of Naik's scheduled Thursday morning media interaction.
"The Islamic Research Foundation team was busy making the final arrangements for holding this morning's media event. However, shortly before midnight, the Mehfil Hall (in South Mumbai) authorities called up, asking us to pack up and leave the premises immediately," IRF said.
No reasons were cited for the last-minute cancellation. The team complied and left the premises early on Thursday morning. This was the third consecutive cancellation of Naik's media event in the past five days, all due to last-minute cancellations by the venue owners, including the World Trade Centre and some five-star hotels.
The Mumbai-based preacher is on a scheduled lecture tour of Saudi Arabia, the United Arab Emirates and then Africa and expected to return home after a fortnight.
Naik, who enjoys a huge fan following on social media, came under the scanner of the government amid allegations that funds from abroad received by his foundation have been spent on political activities and inspiring people towards radical views.
Meanwhile, reports have emerged that Islamic seminary Darul Uloom Deoband has issued at least seven fatwas cautioning Muslims against Naik's preaching.
In April 2007, Deoband responded to a query, "What do you say regarding Dr. Zakir Naik?", said: "He seems Ghair Muqallid and his knowledge is not deep. Therefore, he is not reliable and Muslims should avoid listening to him".
The seminary in a 2008 fatwa said that Naik is a deviated from the path of well-versed Ulama in many of the thoughts.
"His approach seems contradicted to authentic Ulama of salaf. Therefore, one should avoid attending his programmes".
The seminary cautioned not to rely him and to double check what Naik has to say.
In April 2009, the seminary cautioned against listening to his speeches, saying: "He is religiously deviated, some of his talks are unauthentic. A common man may not be able to differentiate between right and wrong; therefore, people should avoid listening his speeches, they are feared to fall in deviation."
The seminary had rebuffed Naik as a "self-styled scholar", calling him a preacher of a different school of thought.
Calling Naik "a scholar of English", the Seminary said he has no right to preach.
"Is wearing the dress of Jews and Christians established from the holy Quran?" the Seminary said in February 2012.
The Seminary however has objected "use of the fatwas" as a tool against Naik.
"We belong to different sects and there are differences, which would always be there. But using our fatwa as a tool against him is wrong. It's wrong to use these fatwas in present controversy," Maulana Ashraf Usmani, the official spokesperson of Deoband told IANS.
Usmani said that Deoband is neither opposing nor supporting Zakir Naik over ongoing controversy. However, he sees the ongoing controversy as an attack on the Muslim identity and calls it "sad".