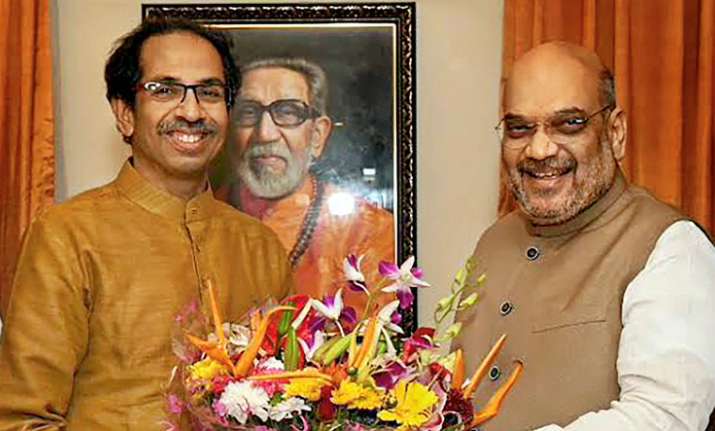 Paving the way for the ruling BJP's smooth sailing during opposition-sponsored no-confidence motion in Lok Sabha on Friday, the saffron party's 'estranged' ally Shiv Sena on Thursday decided to vote against the motion.
The party reportedly took the decision after BJP chief Amit Shah called up Sena supremo Uddhav Thackeray this morning and sought his support to defeat the no-confidence motion moved by the opposition parties.
The Shiv Sena has issued three-line whip to its MPs asking them to be present in Lok Sabha on Friday. 
However, Shiv Sena MP Arvind Sawant told news agency ANI that the party MPs have been only asked to be present in the Lok Sabha during no confidence motion and a decision on whether to support or oppose the motion will be taken on Friday only.
"Shiv Sena will work on directions of Uddhav Thackeray Ji. No Confidence Motion hasn't been moved by Shiv Sena, we will see what we have to do tomorrow. We have only been asked to be present in the Lok Sabha tomorrow: Shiv Sena MP Arvind Sawant on No Confidence Motion," he said. 
Earlier in the day, Sena leader Sanjay Raut had said his party will disclose its stand on the floor of the House. "A decision has been taken. We will let it be known inside the House," he said.
The motion will be the first since the BJP-led NDA government came to power four years ago. Speaker Sumitra Mahajan's decision to accept the motion moved by former BJP ally TDP and others came on the first day of the Monsoon session.
Andhra Pradesh Chief Minister and TDP president N Chandrababu Naidu had sought the support of other parties for the motion, citing the NDA government's "non-fulfilment of the promise" to grant special status to his state.
In a House of 535 members, the ruling National Democratic Alliance(NDA) has 313 members including 274 (including the Speaker) of BJP, 18 of Shiv Sena, six of Ram Vilas Paswan-led LJP and four from Shiromani Akali Dal(SAD).
The stated strength of the Opposition is 222, including 63 of the Congress-led UPA, 37 of AIADMK, 34 of Trinamool Congress(TMC), 20 of Biju Janata Dal(BJD), 16 of TDP and 11 of Telangana Rashtra Samithi(TRS). 
Watch: Shiv Sena to vote in gavour of Modi govt during no-confidence motion