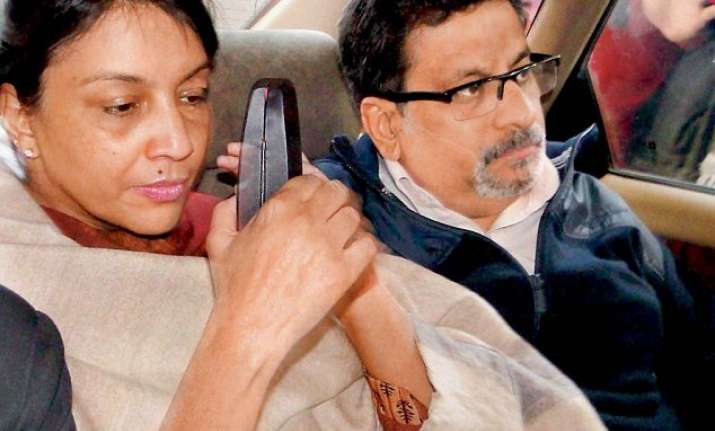 Overturning the 2013 verdict of a Ghaziabad CBI court, the Allahabad High Court on Thursday acquitted the dentist couple in the double murder case of their daughter Aarushi Talwar and domestic help Hemraj, which happened on the night of May 15, 2008. 
In a packed courtroom, the judges overruled the lower court verdict, saying that there is "no irresistible evidence" against the Talwars, and said the dentist couple is free to walk out of jail immediately. 
The Talwars had appealed against a special CBI court's 2013 ruling that held them guilty for the twin murders on the basis of 'scientific evidence' and sentenced them to life imprisonment.
Giving the Talwars the benefit of doubt, the court said that "there is no chain of evidence and we can't convict on the basis of mere suspicion". 
"CBI could not substantiate evidence. The chain of evidence they have showcased is inconclusive. Therefore, giving the benefit of doubt to the Talwars, the trial court judgment has been overruled," said the Allahabad High Court. 
Following the verdict, the Talwar broke down in the courtroom and hugged each other. 
 
CBI lawyer Anurag Khanna said that the probe agency will move the top court only after consulting with its top officials, and will decide the next course of action after studying the complete judgement of the Allahabad High Court.
  
Earlier, a division bench of the high court comprising Justices B K Narayana and A K Mishra had reserved its judgement on September 7 on the appeal filed by the dentist couple, fixing October 12 as the date for the verdict.
Fourteen-year-old Aarushi was found dead inside her room in the Talwars' Noida residence with her throat slit in May 2008. The needle of suspicion had initially moved towards 45- year-old Hemraj, who had gone missing but his body was recovered from the terrace of the house two days later.
As the Uttar Pradesh Police drew flak over shoddy investigation into the case which was making national headlines, the then chief minister Mayawati handed over the probe to the Central Bureau of Investigation (CBI).
However, the mystery over the sensational murder case further deepened as the two CBI teams which investigated the case, came to contradictory conclusions. 
The first CBI team said that Krishna, a friend of Hemraj, committed the murders as the latter had objected to plans to assault the teen. 
On the contrary, the second CBI team filed a closure report before a special court in Ghaziabad, saying that the murders could have been committed by the Talwars in a fit of rage after they saw their daughter with the domestic help. It, however, added that there was insufficient evidence against them. 
Though no concrete evidence was found against the couple, who have been claiming their innocence, court pronounced them guilty on circumstantial evidences.