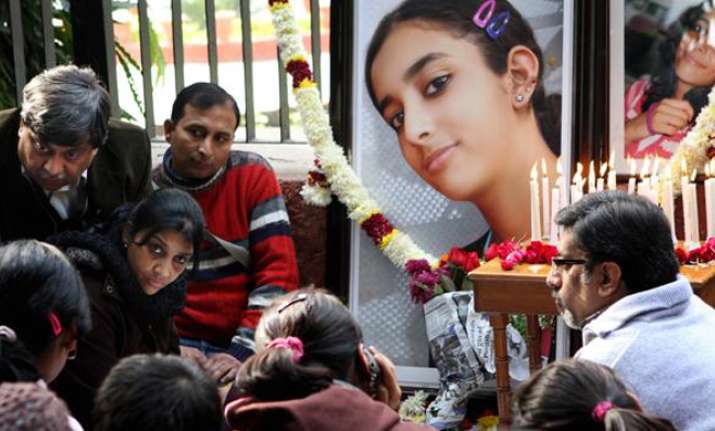 The Allahabad High Court on Thursday quashed the decision of the CBI court in Ghaziabad, and acquitted Rajesh and Nupur Talwar in the murder case of their daughter Aarushi and domestic help Hemraj. The dentist couple were awarded life sentence by a special CBI court in Ghaziabad on November 26, 2013.
Arguably the most sensational crime to be covered by media, the Aarushi-Hemraj murder firmly put the spotlight on the Talwars, Since the murder of Aarushi and Hemraj, every move and expression of the couple has been watched very closely.
Nupur and Rajesh are currently serving their sentence in Ghaziabad's Dasna jail. Their 14-year-old daughter was found dead with her throat slit inside her room at the Talwars' Noida residence in May 2008. The needle of suspicion had initially moved towards 45-year-old Hemraj, who had gone missing, but his body was recovered from the terrace of the house two days later. 
A fortnight after the murder, the teenager's father was arrested. A lie detector test was conducted on him before he was granted bail on July 12. His wife Nupur had also faced the lie detector test twice. Both Rajesh and Nupur have been charged with murder and conspiracy. Her father is also charged with destruction of evidence.
Several theories have sprung up since the probe into the sensational double murder began, something that has also been dubbed as a botched up investigation.
According to Noida police, Rajesh and Nupur were believed to be angry over their daughter's liaison with 45-year-old Nepali servant Hemraj. According to police, Aarushi and Hemraj -- who allegedly shared a close relationship -- knew about Rajesh's extra-marital affair.  Exactly a week after the murder, police said that Rajesh was arrested after enough evidence was gathered, including the cover-up attempts by the dentist.
Police said Rajesh first killed the domestic help on the terrace of the house in the early hours of May 16 and then came down to kill his daughter after having some whiskey. As per the police version, Rajesh was having an affair with one Anita Durrani. Both Aarushi and Hemraj knew about Rajesh's affair. While Aarushi objected to her father's affair, Hemraj was blackmailing Rajesh.
The police said that Aarushi's mother Nupur had helped her husband commit the murders.
In December 2010, before the CBI filed its closure report in the case, holding Rajesh as the main suspect despite there being not enough evidence against him, narco-analysis tests on Rajesh and Nupur were conducted. The CBI had in its closure report gave clean chit given to other servants who were rounded up by the probe agencies.
However, the trial court in 2011 rejected CBI's closure report and summoned Talwar couple as accused to face charges of murder and destruction of evidence. The couple then approached the Allahabad High Court for quashing trial court summons, but it also rejected their plea and ordered initiation of proceedings against them.
The dentist couple immediately moved to the Supreme Court which stayed the trial against them, but months later ruled that trial against them be conducted.
The CBI in March 2012 argued in court for cancellation of Rajesh's bail. The duo was charged with murder, destruction of evidence and conspiracy. Nupur was arrested in April 2012 before being released on bail in September the same year.
Months later, in April 2013, CBI told the court that Aarushi, Hemraj were killed by the Talwars. The same year, Talwar couple were held guilty by CBI court and sentenced to life imprisonment.
Defence counsel pleaded before the court to summon 14 people, including former CBI joint director Arun Kumar as witness. But the CBI opposed the plea.
After his conviction by a CBI court in 2013, Rajesh began maintaining a diary about his and wife's life in prison. In his jail diary, Rajesh, who along with his wife runs a fully organised dental clinic inside the Dasna Jail, said that he was paraded for VIP visitors at the jail where he has been incarcerated since November 25, 2013.
"Met with the Law Mantri since Deputy Jailer had called me there. Felt like some sort of an animal in a zoo whom people want to see," it reads.
"Some people and Parminder Awana, the cricketer, came. They were made to meet me, really don't know why. How am I supposed to react?" he asks.
Talwar also writes: "If only I would have gotten up...I could not even save my dear Aaru(shi)."
In October 2015, after the release of a Bollywood movie based on the murder, 'Talvar', the officer who led the initial CBI investigation, Arun Kumar, said he believes Rajesh and Nupur Talwar were innocent.
The Talwars had spent their 25th wedding anniversary in jail. On the day, December 18, 2013, Rajesh Talwar had noted in his diary, "Could anybody imagine where we would be on our 25th anniversary? No Aaru, no house, no clinic, no money, and sitting in jail for something we haven't done."
Rajesh's wife Nupur, on the other hand, has managed to capture the attention for doing something unusual. She has translated the book by journalist-turned-author Vartika Nanda called 'Tinka Tinka Dasna' from Hindi to English.
'Tinka Tinka Dasna', is the second book in the 'Tinka Tinka' series authored by Nanda, reflecting on the imprisoned lives of five Dasna jail inmates - Nupur Talwar, her husband Rajesh Talwar, Nithari killings convict Surinder Koli, Rajesh Jha and serial killer Ravinder Kumar.
Nupur, who has been given due credit on the cover page of the book, translated the book into English in a span of two months in a barracks that she was sharing with more than 50 other women and 13 children. She has also penned two poems on Aarushi, along with her husband, which was also published in the book.