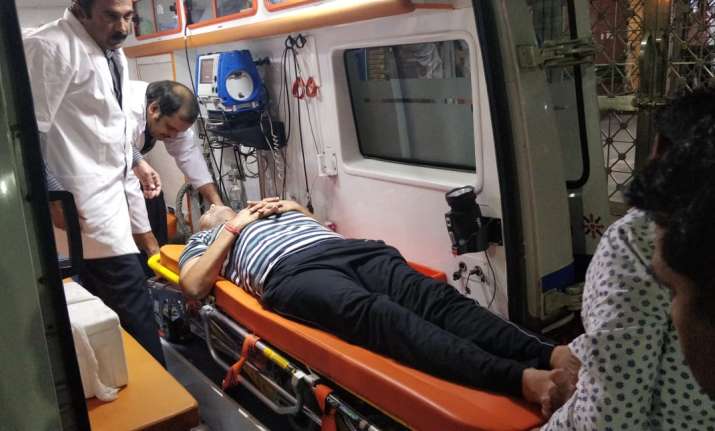 As the AAP sit-in against the alleged strike by IAS officers entered day 8 at midnight, Delhi health minister Satyendar Jain was rushed to a city hospital as his condition deteriorated. Jain has been on an indefinite hunger strike for nearly a week at the Lieutenant Governor office.
The health minister was taken to the LNJP Hospital, officials said. 
Chief Minister Arvind Kejriwal confirmed that his colleague has been hospitalised even as the tug-of-war between the AAP government and the LG refused to die down. 
"Satyender Jain shifted to hospital due to his deteriorating health (sic)," he tweeted.
 
His health summary on Sunday morning showed that his sugar level was 64 units (mg/dL) and ketone level in urine was "large". The blood pressure level was 96/68 and he weighed 78.5 kg, doctors monitoring Jain's condition said.
"Our team of 3 specialists- cardiologist, diabetologist and nephrologist, was checking them (ministers on strike) morning and evening. Satyendra Jain was stable in the afternoon but his ketone level was high. In the evening, he complained of headache, nauseaand breathing problems," Dr JS Passey, LNJP hospital told ANI.
He added that after watching Jain's ketone report, they decided to admit him to hospital. "His blood pressure is normal now. He is having some breathing issues, but stable. Deputy CM's ketone level is also high. Delhi CM is fine, he isn't on a hunger strike," Dr Passey said. 
Kejriwal, his deputy Manish Sisodia, Jain and Gopal Rai, have stayed put at the L-G office demanding that Lieutenant Governor Anil Baijal direct IAS officers to end what the AAP described as their "strike" and approve doorstep ration delivery scheme. 
Jain had gone on strike on Tuesday, and his sugar level had further dipped on Saturday, even as he asserted that the AAP government will continue to fight for people of the city. 
In a tweet, the minister had shared a copy of his health summary, which said, the ketone level in urine had increased to a "large amount". 
"My reports. Ketones are increasing and blood sugar is constantly low. Lost 3.7 kg wt in 4 days. We will continue fighting for ppl of Delhi (sic)," he had tweeted.
(With inputs from PTI)
Watch video: