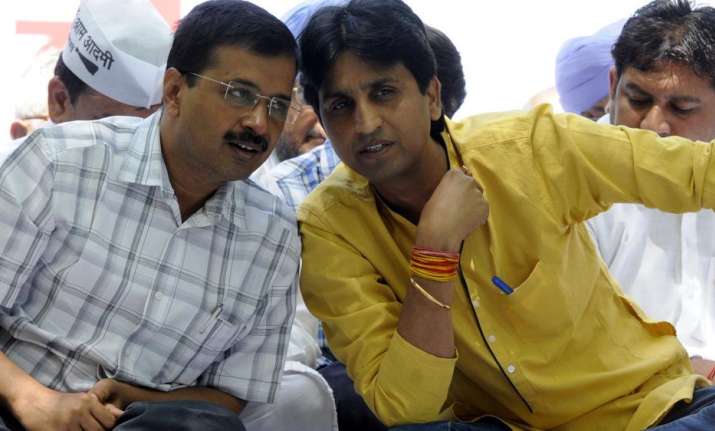 The Aam Aadmi Party on Wednesday announced that Sanjay Singh, Sushil Gupta, ND Gupta will be party's Rajya Sabha nominees.
Soon after the announcement was made by senior AAP leader Manish Sisodia, disgruntled leader Kumar Vishwas said that he accepts his 'shadadat'. 
A decision regarding this was taken at Chief Minister Arvind Kejriwal's residence in a meeting attended by around 56 party MLAs. As per reports, Kumar Vishwas, who was angling for a Rajya Sabha slot, did not attend the Political Action Committee (PAC) meeting.
"Sushil Gupta has made big contributions in the education and health sectors in Delhi and Haryana. He provides free education to 15,000 children. Narayan Das Gupta is the former president of the ICAI (Institute of Chartered Accountant of India)," Deputy Chief Minister Manish Sisodia said.
Meanwhile, Congress leader Ajay Maken says that Sushil Gupta had come to him to submit his resignation. "Gupta claimed that he has been promised Rajya Sabha ticket", Maken said in a tweet.
On 28th Nov, Sushil Gupta came to submit his resignation-

I asked him-"Why"?

"सर,मुझे राज्य सभा का वायदा करा है"-was his answer!

"संभव नहीं"-I smiled
"सर आप नहीं जानते.."-He smiled

Less than 40 days-Less said the better!

Otherwise,Sushil is a good man known for his charity! pic.twitter.com/DgrYhVaFJA

— Ajay Maken (@ajaymaken) January 3, 2018
Reacting to the development, former AAP leader Mayank Gandhi questioned the selection of Sushil Gupta, and alleged that the party has become corrupt, and has been indulged in communal ans caste vote ban politics. 
Think.

Why was Sushil Gupta selected?

Now there is no diff between AAP and BSP. This leadership isn't worth supporting.

I can today say w/o any doubt - AAP has become corrupt.

After communal & caste vote bank politics - we hv crossed the last bastion - CORRUPTION

— Mayank Gandhi (@mayankgandhi04) January 3, 2018
Elections to three Rajya Sabha seats from Delhi would be held on January 16.  The last date to file nominations for the three Rajya Sabha seats is January 5.